Kings' Center DeMarcus 'Boogie' Cousins is the most interesting guy in the league, the 2013-14 MVP, and also the bearer of complete joy and peace, and you can't tell me otherwise.
Here are some numbers if you're not convinced:
Cousins has the league's highest usage rate (33.2 percent)

He's averaging career highs in points (23.3), rebounds (11.5 - fifth in the league), assists (3.1), steals (1.9), and field goal percentage (49.4 percent).

He's third in the league in points/100 possessions (35.31), behind only these two guys: Kevin Durant and LeBron James.

He has the fifth-best Player Impact Estimate in the League, behind just Durant, LeBron, Chris Paul, and Kevin Love.

He's tied for third in the league in points in the paint.

He's also leading the league in the all-important category of technical fouls (10), becoming the obvious heir apparent to Rasheed Wallace. With all the points, domination, and potential for crazy, Boogie is must-watch TV.

And in case you were wondering, yes he also leads the league in total fouls committed at time of writing (135).

The Kings still suck, but not as bad as they used to. With Cousins' improvement this year plus the addition of Rudy Gay and more roster movement, this team is looking at a 30-win season for the first time in about six years.

Cousins says things like, "Some guys are All Stars because their team is good. That's not an All Star."

He wants to be the first big to take part in the All Star Skills Challenge. Which will be awful and incredible at the same time.

LeBron James thinks that Cousins is an All Star. And LeBron is the self-proclaimed 'Chosen One'. The Chosen One Has Chosen.

He was Santa Claus on a bicycle.

In a league where big men are going extinct or rediscovering themselves primarily as defensive specialists, DeMarcus Cousins is a throwback to the not-so-distant past, a big and bulky man in the middle who dominates the post and gives us flashbacks of Shaq. Within a year or two, he's going to be the best Center in the league.
But is he an All Star this season?
Never mind the fact that the West front-court is loaded with more talented (and popular, since voting matters) players like Kevin Durant, Blake Griffin, Dwight Howard, Kevin Love, LaMarcus Aldridge, and more. There is at least one very influential person who thinks that Boogie Cousins deserves to be an All Star this season. And this person is asking you - the Indian basketball fan - to do something about it.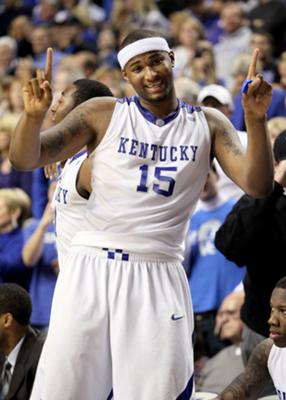 Mumbai-born Vivek Ranadive became the
first Indian owner of an NBA team
when he purchased the Kings over the summer. Ranadive has since helped keep the team in Sacramento, change the culture of the organization, and
sprinkled in some Indian elements
to appeal to the audience back home. He has also handed Cousins a contract extension, making him the sure-shot face of the franchise for the next several years, and also had dreams of making his big man
into a star in India
.
Now, Ranadive has released
this amazing video
appealing to fans in India to vote Cousins into the 2014 NBA All Star game.
Aaaahhhh so much goodness. To quote a
classic movie from the late 90s
,
"Sometimes there's so much beauty in the world, I feel like I can't take it, and my heart is just going to cave in."
The fake Taj Mahal backdrop, the Boogie highlights, and of course, a special appearance by the man himself in the very end, adding a 'Namaste India' as part of his humble appeal. How could you - citizens of
all
countries in the world -
not
vote for him after watching this?
Appealing to the Indian audience is smart: India has the world's second-largest population, and if a fraction of them can be convinced by Ranadive's mission, they can pour in thousands and thousands of extra votes for the mercurial big man. China, another billion-plus country, dominates NBA All Star voting by its sheer numbers, which is why Yao Ming (who is Chinese) was an All Star nearly every season and Jeremy Lin (who has Chinese grandparents) has more votes than Harden, Westbrook, Parker, or Lillard. Of course, unlike the Chinese, the majority of Indians barely care about the NBA. And as far as we know, Cousins doesn't have any Indian origins. So, don't expect there to be a revolution of Indian All Star voting.
Or maybe this image will change your mind?
Keep boogying, Boogie.