Super MVP
: A player who wins both the NBA regular season MVP and the NBA Finals MVP award in the same season.
This article started in my mind several months before my fingers typed it out: it started with a discussion with my brother about the factors that define the legacies of the NBA's greatest ever players. As far as quantifiable measures go, a players' greatness can be determine by the championships he wins, the MVP awards he collects, and the statistics he posts up. Other factors such as all-star appearances, all-NBA teams, defensive player awards, and overall season/playoff games won also add to the argument.
Above all the other individual accolades that could be handed out to a player is the MVP Award. Since it was first given out to Bob Pettit in 1956, the MVP award - known as the Maurice Podoloff trophy - has been handed out 55 times to 29 players. Heralded to individual glory as this award may be, it does carry a sort of a curse with it (which I
wrote about over a year ago
): Only 20 times since 1956 has the NBA, MVP won the NBA Championship:
only 12 players have lifted both trophies in the same season
. Since Michael Jordan retired, only Shaq (2000) and Duncan (2003) have been an MVP and an NBA Champion in the same year.
Realising how difficult it is - and how much more difficult it is becoming - to win both these trophies in the same year, I have come up with a new award, handed out trademarked by the
Hoopistani Blog
:
THE SUPER MVP
. Since the 'best' player in the league, the Most Valuable Player, is thus most likely to also be the Finals MVP if his team wins a championship in the same season, this player would be that season's Super MVP.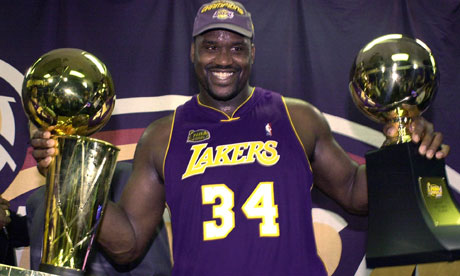 The Finals MVP award was introduced in 1969, and in that very first year, it was handed to someone who
lost
in the Finals: Jerry West. West averaged 38 ppg for the Lakers in a 4-3 Finals loss to - who else? - but Boston Celtics! Since then, the subsequent 42 Finals MVP awards have always gone to a champion, a trend that I hope continues to make my Super MVP award relevant.
The year 1980 was also one other curious exception to the trend. Kareem Abdul-Jabbar won the regular season MVP and the NBA Championship with the Lakers in the same season. But the Finals MVP Award that year went to a rookie Magic Johnson, who, in Kareem's injury absence, did some things which
were unfathomably incredible.
Sorry, but that shifts Kareem's 1980 season out of the Super MVPs list, although he does make the lineup much earlier.
The 'NBA Finals MVP Award' wasn't introduced till 1969. In 2009, Commissioner David Stern announced that he is renaming the award to honour celtics' legendary Center Bill Russell by calling it the 'Bill Russell Finals MVP Award'. That is ironic, of course, because Russell retired in 1969 without ever having won the award. Beforethis award was started, there were only five instances in NBA History when a regular season MVP won the NBA Championship in the same season. Since these players were considered to be the NBA's best for that season, and they won a championship, I'm going to assume that they count as Finals MVPs, and hence, 'Super MVPs', too.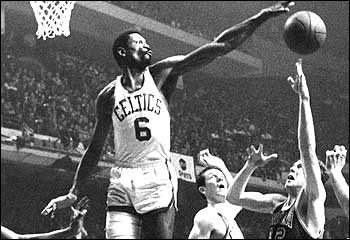 - 1957: Bob Cousy (Celtics)*
- 1961: Bill Russell (Celtics)*
- 1962: Bill Russell (Celtics)*
- 1963: Bill Russell (Celtics)*
- 1965: Bill Russell (Celtics)*
- 1967: Wilt Chamberlain (76ers)*
- 1980: Kareem Abdul-Jabbar (Lakers)**
*Won an MVP and an NBA Championship before the Finals MVP Award was introduced
**Won an MVP and an NBA Championship but not the Finals MVP Award.
And here is my list of the
NBA's Super MVPs
after the Finals MVP award was introduced:
- 1970: Wills Reed (Knicks)
- 1971: Kareem Abdul-Jabbar (Bucks)
- 1983: Moses Malone (Sixers)
- 1984: Larry Bird (Celtics)
- 1986: Larry Bird (Celtics)
- 1987: Magic Johnson (Lakers)
- 1991: Michael Jordan (Bulls)
- 1992: Michael Jordan (Bulls)
- 1994: Hakeem Olajuwan (Rockets)
- 1996: Michael Jordan (Bulls)
- 1998: Michael Jordan (Bulls)
- 2000: Shaquille O'Neal (Lakers)
- 2003: Tim Duncan (Spurs)
It is an impressive and exclusive collection of NBA superstars. Michael Jordan makes that list four times, and Larry Bird twice. In two occasions, Abdul-Jabbar won the MVP award and the championship in the same season, but with different teams. And before the award was introduce, it's namesake Bill Russell had an incredible four seasons where he lifted both the MVP award and the NBA Championship trophy. As the last one to achieve this feat, Tim Duncan is the honorary holder of my Super MVP award.
The rarity of being a Super MVP is what makes the feat that much more incredible. There are too many players who have a good season to win an MVP award but never add the ring to their resumes: Charles Barkley, Karl Malone, and Allen Iverson (barring his return to the NBA) are perhaps the first three names that come to my mind with the 'incomplete' legacy. A lot of former MVPs do on to become smarter players in better teams and win championships in later seasons, such as Julius 'Dr J' Erving, David Robinson, Kevin Garnett, and most recently, Dirk Nowitzki. Amongst the current crop of players, the likes of Steve Nash, LeBron James, and Derrick Rose are those who will be looking to add some championship hardware to their individual accolade.
Then, are are also many players who have never had a complete, dominating MVP season, but because of their team-play and/or their individual brilliance in the Finals, have won the championship and the Finals MVP award: John Havlicek, Rick Barry, Jo Jo White, Dennis Johnson, Cedric Maxwell, James Worthy, Joe Dumars, Isiah Thomas, Chauncey Billups, Dwyane Wade, Tony Parker, and Paul Pierce are the names who belong in this category.
So what does all this say? Considered damn-near-unanimously as the Greatest Of All Time (GOAT), Michael Jordan has also achieved the perfect combination of individual dominance and team success more often that anyone else. And if we counted those before 1969, 11-time-champ Bill Russell equals Jordan's four 'Super MVP' seasons.
And as we await the possibility of the locks to be opened for the new NBA season, and as the predictions for the champions and the MVPs pour in, I'll be keeping my eye out to see if someone can achieve the difficult combination of the two. If someone can emulate Jordan, Bird, Duncan, or Shaq for one season. If someone can finally become a Super MVP again.