This feature was first published in the 104th edition (2013 - No. 7) of SLAM China Magazine. Here is my original English version of the story.
There was a reason that, after LeBron James decided to leave the Cavaliers to go to Miami, his former fans in Cleveland came out in anger to burn jerseys and tear down banners. A similar, if relatively less harsh response, was felt in Orlando after Dwight Howard made his intentions to bolt from town. These weren't just simple player-team relationships that left the fans so devastated; this was a true loss of a loved one, of a star that had helped build and grow with a team.
It always hurts when a long relationship ends. It seems nowadays that there is little loyalty to be found in the NBA, as players are traded or leave as free agents on an all-too-regular basis. Stars come and go. Long-term relationships are a rarity.
It's the 21st century, where people come and go at the speed of need and a person can be found and forgotten in a matter of social media updates. It's the age where many young relationships don't last past a few months; the best ones could go for a few years but some don't even last a few days!
In a time like this, who should we seek to give us good advice, to help us build a long-term relationship? How to find that perfect pairing, and how to keep that pair going for years and years and years?
Thankfully, not all pairings are so short lived, and as the NBA as proven, some players and teams are truly meant for each other. Some players spent their entire career with the same team, playing their first game to their last bearing the name of the same franchise on their jersey, just the way love-stricken couples who always stay together bear a ring for each other. Players like John Stockton, who spent all 19 years of his career with the Utah Jazz. Or Reggie Miller, who spent 18 years with the Indiana Pacers. Dolph Schayes and Hal Greer both spent 15 years each with the Syracuse Nationals/Philadelphia 76ers.
But what is the secret to this longevity? What keeps teams and players loyal to each other for over a decade, or for the player's entire career? From Kobe Bryant in Los Angeles and Dirk Nowitzki in Dallas, to Tim Duncan, Tony Parker, and Manu Ginobili in San Antonio, we take tips from the NBA's best relationship scholars. These guys will teach you how to stay along with your team forever!
Kobe Bryant – Relentlessness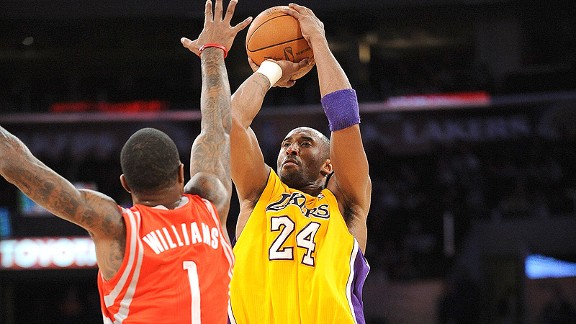 Somehow, Kobe Bryant fell to 13th place in the 1996 NBA Draft. The Charlotte Hornets picked him up, but it was the Lakers who were truly love-struck by the teenage prodigy and traded their Center Vlade Divac to acquire him. It was the beginning of long relationship, which was sometimes beautiful and sometimes tumultuous. Despite being lower in the pecking order to the Lakers' bigger attraction – Shaquille O'Neal – Kobe fought to be the alpha dog in the relationship with the franchise and the fanbase. The result of this love triangle was at first failure, then incredible success, as the Lakers' won three consecutive championships, a feud, and then an inevitable breakup. The Lakers had made their choice and finally handed the keys to the team solely to Kobe; Shaq was sent to Miami.
By then, Kobe already had the reputation of being the league's most relentless winner since Michael Jordan. The young man who refused to back down and refused to accept defeat as an option. Unfortunately, without Shaq, even Kobe's winning attitude couldn't help the Lakers as they missed they faced many barren years without victory. Times were tough, and there was even a near breakup in the mid-2000s as suitors like the Bulls and the Clippers came calling. But Kobe and the Lakers survived the rough patch, added Pau Gasol to the lineup, and returned to winning ways again.
They have been together 17 years now, and Kobe Bryant is surely set to retire as a Laker for life. Even as the new generation – Dwight Howard – gets introduced into the relationship, this is still surely Kobe's team. And they will remain so until Kobe himself decides that it's time to call it quits.
Tim Duncan, Tony Parker, & Manu Ginobili – Family Togetherness
Since 1997, there has been but one surety in the basketball world: Tim Duncan and the Spurs will win a lot of games. No matter however much other teams and players change, Duncan and the Spurs stay the same. An injury to their former favourite David Robinson saw the Spurs plummet down the rankings and earn the rights to the Number 1 pick in the 1997 Draft. They immediately drafted the heartthrob that every team in the league had their eyes on: Tim Duncan. Ever since then, Duncan's developing relationship with Robinson and Coach Gregg Popovich has been the cornerstone for success for this team. Robinson retired after two championships, but Duncan stayed on for lots more individual and team success, and 16 years later, he is still in San Antonio and still contending for the title.
But in this time, the Spurs have been able to add two more invaluable pieces to form a perfect little family of success in San Antonio. From France, they nabbed young point guard Tony Parker, and from Argentina came talented swingman Manu Ginobili. After spending 12 and 11 years with the Spurs respectively, Parker and Ginobili have become almost as important a part to the basketball culture in San Antonio as Duncan. All three bring different characteristics to the dinner table: Duncan has the quiet demeanour of a leader, Parker has the aggressive nature to attack with the ball in his hands, and Ginobili is the wily personality determined to win with any means necessary.
Together, they are one of NBA's most successful families, and their togetherness is now serving as a model to the future of young Spurs players, like Kawni Leonard and Danny Green. Duncan, Parker, and Ginobili will hope to end their long relationship with the team with at least one more championship.
Dirk Nowitzki – Identity
Founded in 1980, the Dallas Mavericks are a relatively young franchise, and like any young team, struggled to make a mark for themselves in the early years. In the first 20 years of their existence, they only managed to get into the playoffs six times and their best showing was one solitary visit to the Western Conference Finals, back in 1988. Sure, they featured All Stars like Mark Aguirre, Rolando Blackman, James Donaldson, and Chris Gatling in their first two decades, but this was a team without an identity, a direction, without a future or a past. By 1996-97, they were in full-on transition mode, changing their partners at a hefty pace, and in the course of the season, played 27 different players for their side!
And then came the Good German.
Selected 9th in the 1998 NBA Draft, the Mavericks took a risk in adding the unproven sharp-shooting big man, with a skill-set like none other before him in league history. Nowitzki joined the core of this new look team with Michael Finley and young Steve Nash. As the three young players developed together, things changed for the better in Dallas. The three became the 'Big Three', and from 2000 onwards, the Mavericks didn't miss the playoffs again. Even after the departures of Finley and Nash, the Mavericks continued to build a team around Nowitzki. By 2006, he carried them to the NBA Finals, in 2007 he had an MVP season, and in 2011 he – along with Jason Kidd, Tyson Chandler, and Shaun Marion – finally delivered the franchise their first championship after 31 long years.
The Mavericks chose to develop their team's identity and personality around Nowitzki, who has now been a member of the squad for 15 years! Surrounding players have come and gone, but Nowitzki and the Mavericks have been a perfect couple. He is now 34, and as he ages, the team has slowed down too. This could be the first time that they miss the playoffs in 12 years. But even as they look to a new era, the Mavericks celebrate the man who made them who they are.
Paul Pierce – Heart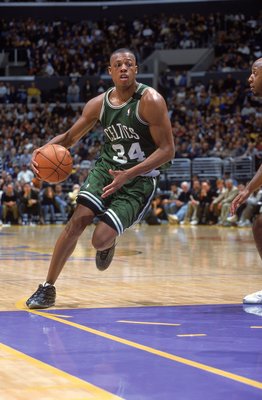 If the Mavericks were in search of identity until they found Nowitzki, the Boston Celtics – the most successful franchise in NBA history – were in search of new blood to bring back their old legacy. Picked one spot after Nowitzki in 1998, they found this new blood in Paul Pierce. Pierce made a good impression in his early years in Boston, but it was his bravery in 2000 that began the city's true, long-lasting love affair with him.
In September 2000, Paul Pierce was involved in a violent altercation, leaving him with 11 stab wounds across his body and requiring him to undergo lung surgery to repair the damage. Astonishingly, the young Pierce showed unbelievable heart and courage to bounce back by the time the season began and become the only Celtic to start all games in the 2000-01 season!
Pierce has been a staple in Boston basketball since: he never gave up on the team despite disappointing results season after season, until the team finally gifted him with two valuable teammates in Kevin Garnett and Ray Allen. The Celtics Big Three finally brought back a championship to Boston. With time passing, Allen left, Garnett got older, and young Rajon Rondo became the team's focal point. But Pierce remains as the heart and soul of the team and is still their best offensive option.
Dwyane Wade – Star Attraction
By the end of this season, Dwyane Wade – drafted back in 2003 – would've completed a full decade in Miami. Part of the stellar 2003 Draft Class, Wade has seen other stars drafted in the same year change jerseys, such as LeBron and Bosh moving from Cleveland and Toronto respectively to Miami, and Carmelo Anthony moving from Denver to New York. But unlike the other tragic breakups, Wade's romantic story with the Heat has continued despite their ups and downs and now, they're enjoying the best stretch of their time together.
Through injury and success, through MVP teammates and through struggles, through the league's worst records and through championships, Wade and the Heat have survived their time together. How was he able to do it? Perhaps it's because of Wade's magical charms over other NBA superstars, who are more than happy to come and play with him in sunny South Beach. In 2004, with Shaquille O'Neal was traded from Los Angeles, he was glad that Miami kept the young Wade to play alongside him. In a couple of years, Wade had outgrown even Big Shaq to bring the team their first championship and himself a Finals MVP award. Four years later, Wade attracted two more stars to Miami – LeBron James and Chris Bosh – and together, this new Big Three has been to the NBA Finals twice, won a championship, and created a historic winning streak this season.
Wade's brilliance in Miami has perhaps masked the efforts of another player signed by the Heat in 2003 who has also spent his entire NBA career with the Heat:
Udonis Haslem
. Wade and Haslem have stuck together with the Heat for two championships. While LeBron James is now the team and the league's MVP, it is Wade who has brought the stars to Miami who will always be the Heat's deepest love affair.
Time changes, generations pass, and old ways give in to the new. But as these long-time loyal players have shown, it is still possible to be a one-team player for a decade or more in the NBA. It is still possible to forge a relationship through passion, heart, and mutual respect, can stand the test of time. One thing that all these players have in common is that they have been able to deliver at least one championship to their respective teams.
Hopefully, their example can spawn many more youngsters with hopes to form long-term relationships in the NBA!