How's this for a (semi) oxymoron: devastatingly hilarious.
After 19 years, Shaquille O'Neal retired from the NBA. The only NBA player, or person alive, or person dead, that I can truly describe to be both - devastating, and hilarious. If I can describe him in two words, it would be those two. Not someone who was so hilarious that it almost destroyed people. Not someone who was so devastating that it was funny. No: Shaq was both those things, separately and together, in one single entity.
I heard the news seven or eight hours later than it was first announced: but this is 2011, and in the world of fast news sharing and even faster reactions, seven or eight hours is a lifetime. There was a newsletter from the NBA in my inbox, but instead of discussing the NBA Finals, the focus was all about a certain announcement by the NBA's biggest personality.
On a 16-second long
video posted on Twitter
, Shaquille O'Neal of the Celtics, and the Cavs before that, and the Suns before that, and the Heat, and most memorably of the Lakers, and for the Magic, announced his retirement.
The 'twitter retirement' was a surprising whimper in the story of a man who is loud, proud, boisterous, and overly Shaqtastic.
Everything about the career of Shaq has been Big. Not just Big, but BIG. It should be in bold actually. As a matter of fact, here you go:
BIG
. From his 7 foot 1 inch, 150 kg body to his achievements - his four championship rings, his three Finals MVP awards, his 2000 NBA MVP award, and his 15 All Star appearances. He was
BIG
when it came to dunking on everyone from Dikembe Mutumbo to Robert Parish, and
BIG
when he
broke backboards
on his dunks.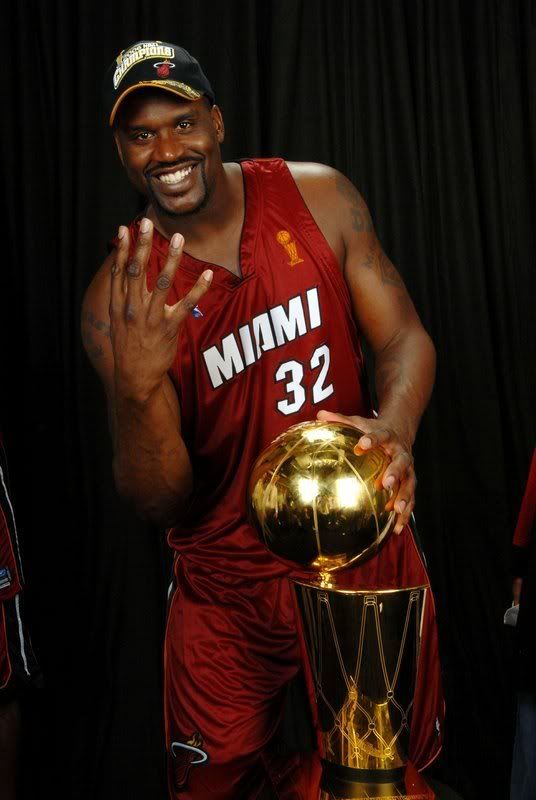 Now, he retires as one of the best Centers ever to play the game - and in all seriousness, I will put him in top 3, somewhere in the league with Bill Russell and Kareem Abdul-Jabbar - I'm sorry but I have never been a fan of Chamberlain. Put Shaq in the Chamberlain-era and he would've made averaging 60 and 30 look easy.
But his career to me also leaves a HUGE gaping hole and a list of questions and what-ifs - yes, I know, every player has a what if (what if MJ never left in 93? what if Grant Hill never got injured? what if the Lakers never traded for Kobe as a rookie?), but the Shaq what-if is simpler, and thus, most frustrating.
What if he cared more?
Never in his 19-year-career did Shaq play all 82 games of the regular season. His peak of dominance, where he made every other player in the league look like mincemeat, was far too short for someone with this potential. I know I'm saying this of a player, who with one trade, changed the entire balance scale of the NBA, but Shaq was THAT good. Even after a hall of fame career, I say he could've done more, could've been better. What if Shaq tried to stay in better shape? What if Shaq took the regular season more seriously? What if Shaq worked on his free throws? What if there was never any drama between him and Kobe in LA?
I read an article many years ago about how, based on pure dominance, Shaq is the man who comes closest to being the one person to change the entire shape of a franchise. Only Michael Jordan in the history of every great basketball player may rank higher. And what if Shaq had the hunger MJ had? What if he had 75 percent of that hunger? What if he tried harder and sacrificed more to keep winning. I'm convinced that he would be sitting comfortably on a couple more MVP awards, a couple more rings, and a place in NBA history as perhaps the second-best player in basketball.
Well, it's finally over now, and by most reactions, people are happy Shaq called it a day. From being the league's Most Dominating Ever (MDE) to a mere sideshow who was now more famous for his jokes and his dunks, the end of Shaq's playing career was a little too quiet.
There has been just too much about Shaq, on and off the court, to truly capture in a silly little article. I try to think about how to approach this, but the idea of Shaq, like Shaq itself, is bigger than most other NBA personalities. So I'm going to take a cop-out and list to you the many, many, MANY things that I remember about Shaq. Some you may know, some you may have forgotten, and some may be new to you - I just hope that, by the end of this list, you realise that there will never be a player who was as dominant on court and as awesome off it as Shaq again.
1. I have already mentioned this before, but Shaq broke backboards.
2. In additional to his basketball career, Shaq released four rap albums in the 90s: Shaq Diesel, Shaq Fu: The Return, You Can't Stop the Reign, and Respect.
3. Shaq played for six different teams in his career, and he took THREE of them to the NBA finals - the Magic, the Lakers, and the Heat. He won with Lakers and Heat.
4. Shaq did a legendary song with another BIG - the Notorious B.I.G. - on the classic, "You Can't Stop The Reign" -
"7-0, towerin inferno / invincible smooth individual / who wanna test it, foreign or domestic / no matter where you're from, I'm not the one you wanna mess wit"
.
5. Oh, Shaq was rookie of the year too, with the Magic.
6. Yes, Shaq did movies, of course Shaq did movies. You don't remember the classic Kazaam? Or the unstoppable Steel? What's wrong with you?
7. These were Shaq's statistics in the NBA Finals during the three-peat with the Lakers (2000-2002): 35.9 ppg, 15.2 rpg, 2.9 bpg, and 60 percent shooting. He was Finals MVP all three times.
8. Shaq has been in many music videos too, not including his own. This is very random, but I used to watch a lot of NBA Inside Stuff in the 90s, and they showed the making of a video of a little child- Aaron Carter, younger brother of Backstreet Boys' Nick Carter - of a song called
"That's How I beat Shaq"
. No need to say more. (BTW, one of the worst songs ever).
"Hey Aaron, are you for real? / One on one with Shaquille O'Neal?
9. Shaq is the fifth all-time in career scoring, at 28,596 points. He has mentioned several times that he regrets not hitting more free throws and getting higher up this list.
10. Shaq like to nickname himself, over and over again. Here is a short list (believe me, it's short): Diesel, Shaq Fu, Big Daddy, Superman (Yes, children, Shaq came way before Dwight), Big Agave, Big Cactus, Big Shaqtus, Big Galactus, Wilt Chamberneezy, The Big Baryshnikov, Dr. Shaq (after earning his MBA), Big Shamrock, Big Leprechaun, Shaqovic and Big Conductor (because he conducted the
Boston Pops orchestra, obviously
). He even asked fans to give him a post-retirement nickname, and settled with the 'Big 401K'. Not to mention his most recent nickname which he gave himself during the 'retirement press conference', as The Big AARP (Association for the Advancements of Retired Persons).
11. Don't be fooled by the last few years, in his prime, there was no bigger force of nature than Shaquille O'Neal. In his prime, he was one of the league's best scorers, best rebounders, best shot-blockers, and had developed his own drop-step dunk, of course, nicknamed by him, the 'Black Tornado'. To put it mildly, take Shaq 2000-2003, put him against any player in the history of the league, and NO ONE would be able to stop him. The only defense against Shaq was 'Hack-A-Shaq', aka, fouling him and forcing him to shoot free throws.
12. Shaq has a long-list of other possible work avenues besides basketball. I've already mentioned the movies and the music. In 2010 he undertook a PhD in Leadership and Education with a specialisation in Human Resource Development at Barry University. His dissertation topic was "The Duality of Humor and Aggression in Leadership Styles". Humour and Aggression - Laker leadership, anybody? Shaq is an honourary US Deputy Marshall and a Miami Beach reserve officer. He is trained in Mix-Martial Arts - boxing, jiu-jitsu, Muay Thai and wrestling. And he's on Reality TV, extremely popular with the Shaq Vs. show.
13. In 2004, when Shaq was traded to Miami, it became the biggest shift of NBA power in recent memory - he immediately made a paper thin Eastern Conference stronger. The only other players to make a big difference in the entire map of the NBA within one year in a new team have been Kevin Garnett (Timberwolves to Celtics in 2007) and LeBron James (Cavs to Heat in 2010).
14. Shaq liked to dance, and we like to watch a behemoth dance like he's Michael Jackson. Out of all of them, my favourite highlights are: 1. Shaq, LeBron, and Dwight Howard
having a dance-off
at the All Star Game, 2. Shaq
dancing with the Jabberwockiez
, and 3. Shaq
challenging Justin Bieber
to a dance-off.
15. Shaq played for six different teams during his career - definitely the most for any player in my 'greatest ever' list: Magic, Lakers, Heat, Suns, Cavs, and Celtics. What I liked was how, in every city, he truly embraced its culture and became a complete vocal part of the team.
16. After Kobe lost the 2008 Finals to the Celtics, Shaq went on stage at a club to sing,
"Kobe, tell me how my ass taste?"
17. Only three players have won the All Star MVP, NBA MVP, and Finals MVP in the same season. They are: Willis Reed (1970), Michael Jordan (1996 and 1998) and Shaq (2000).
18. No, Shaq didn't play a lot in his last season in Boston, but he entertained fans in another way - posing as a statue in Boston Square, dressing up in drag on Halloween and calling himself 'Shaqueeta'.
19. I'm currently working on my list of top 25 greatest players ever, a list that takes into account a mixture of talent, peak, and overall resume. At this point, Shaq ranks 6th, only below Michael Jordan, Magic Johnson, Bill Russell, Larry Bird, and Tim Duncan.
20. It's fitting that Shaq said his goodbye via twitter. He has more followers than any other player in the NBA (3,888,667 and counting), and ranks 28th in the
top list of all twitter accounts
. Considering that the existence of Twitter has been parallel to the downfall of Shaq's dominance, it shows how popular Shaq is off-the-court.
But the off-the-court Shaq isn't going anywhere - if anything - he's gonna be present more - analysing NBA games, doing reality shows, making rap albums, saving the world, whatever. It is the on-court Shaq that is done, and his contribution to the NBA will be dearly missed. He is the one and only one: a personality that can be so devastating and so hilarious at the same time.
In a list of top-10 greatest players ever, there can only be 10 players. And 10 out of thousands is a very small number: very rarely will we get a chance say goodbye to someone as dominating as Shaq, but the time is here and now: So goodbye, finally, to the
BIG
Everything.