Sports Pro
, a British-based sports and sports-business magazine, recently compiled a list of the 50 most marketable athletes in the world. Marketable - mind you, not best - because not only is it difficult to compare athletes in different sports (Leo Messi or LeBron James?) but some of the most talented athletes in the world couldn't sell water to a well (read: Tim Duncan).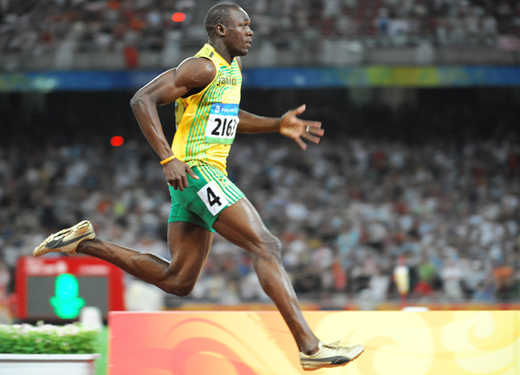 Anyways, it is
an interesting list
, and this is how Sports Pro describes how they got to their conclusions:
The list comprises the 50 athletes deemed by SportsPro to offer value for marketing money if signed today to a long-term global endorsement deal.
As the sports landscape has shifted over the last 12 months, so has the make-up of these unique rankings. Clearly, when evaluating 'potential', a degree of subjectivity is involved. Nevertheless, myriad resources were consulted and contacts nigh-on interrogated.
As was the case last year, the list has been designed and compiled to shed light on where the value might lie across the industry, and as a basis for discussion – both a snapshot of the moment and a three-year forecast.
The top ten are:
1. Usain Bolt
2. LeBron James
3. Cristiano Ronaldo
4. Lionel Messi
5. Lewis Hamilton
6. Carmelo Anthony
7. Sebastian Vettel
8. Michael Phelps
9. Caroline Wozniacki
10. Mahendra Singh Dhoni
Here are some thoughts from the rest of the list, which you can
check out in its entirety here
:
Usain Bolt is #1 - partly because he's the fastest man on Earth, and partly because his last name is Bolt.

LeBron James was #1 on this list last year - no really, he was. Of course that list was named before he became Public Enemy #1 in the eyes everyone on the planet expect Miami Heat bandwaggoners after his 'Decision'. Still, #2 ain't half-bad.

The most marketable basketball players, in order, are LeBron James (2), Carmelo Anthony (6), Yao Ming (11), Kobe Bryant (13), Dwyane Wade (15), Kevin Durant (30), Deron Williams (48).

Yes, you read that right, Kobe Bryant is 13th - below LeBron, Carmelo, and Yao (!!!). I know Carmelo's Knicks move has been taken into consideration, but then why no Amar'e on this list? Why is Deron Williams there?

Why no Derrick Rose on this list? He plays for formerly the most marketable team ever, right.

Shaq?

I'm surprised Kevin Durant, despite all his talent, made it to 30. Personality-wise, he's about as marketable as white bread.

There are two Indians on the top-50 list, both cricketers: MS Dhoni, at an impressive 10th, and Yuvraj Singh, who just makes the cut at 49.

Which brings me to my next question: Where the zark is Sachin Tendulkar? He's a friggin God, you know? If every second advertisement on television isn't considered good marketing, then I don't know what is. I know he's old, but this guy is going to remain India's sure shot salesmen for everything from Visa cards to chocolate milk for the next three decades, at least.

What is most impressive that is the variety in the top 50 - 18 different sports are represented, including 7 racing drivers, 7 NBA players, and 6 football players.

Wow, racing car drivers are popular.

Ronaldo and Messi remain virtually inseparable - whether in talent, output in goals, league standings, and now, marketability.

I wasn't exactly sure why tennis star Caroline Wozniacki is so marketable, but then I saw this and I shut my mouth.

In addition, Sports Pro is doing a poll of the world's most marketable retired athletes too, a list that is headlined by Michael Jordan and Zinedine Zidane