The NBA is a very rich league, a league much richer than other sporting leagues in North America, and a huge reason for this is that the NBA is a lot more famous internationally. There are three major reasons for this:
1) Basketball is the one sport that both North Americans and the majority of the rest of the world understand and enjoy.
2) There once lived a man named
Michael Jordan who was the biggest thing since basketball itself
.
3) NBA commissioner David Stern is a shrewd man - and ever since he took the role of commissioner in 1984, the one thing that the NBA has done best is spread the game to other parts of the world while at the same time feature more and more international players in their own league.
Let's focus on point number 3: there are countless examples of the NBA's efforts to promote itself to a far greater international audience than just those in North America. Outside the US and Canada,
NBA games are regularly broadcasted live
in at least 31 more countries around the world. The recent All-Star game was broadcasted in
215 countries in 41 languages!
The NBA has set up a dedicated
'Global' page
to showcase its efforts around the world, and it has global websites in Brazil, France,
India
, Taiwan, Canada, Germany, China, Japan, Spain, Italy, Hong Kong, and the UK.
There were 83 international players
from 36 different countries on NBA rosters to start the 2009-10 NBA season.

And then its the NBA's outreach and grassroots events in other countries that continue to make them the ubiquitous name in basketball. The
Basketball Without Borders
(BWB) programme has served as
"has served as a summer camp for young people designed to promote friendship, goodwill and education through sport."
BWB have been to India, too, and as you may know, the NBA has teamed up with Mahindra to start a
recreational league in three Indian cities
this summer. Programmes such as BWB have also encouraged current and former NBA players to visit other countries, including India.
So where do we go from here? In most countries, usually the NBA's next step has been the most interesting one - organizing preaseason games featuring NBA teams on foreign soil. The NBA has been holding games exhibition games in Europe for several years already, and recently announced that the Lakers, Knicks, and T'Wolves will be
playing again in Europe this October
.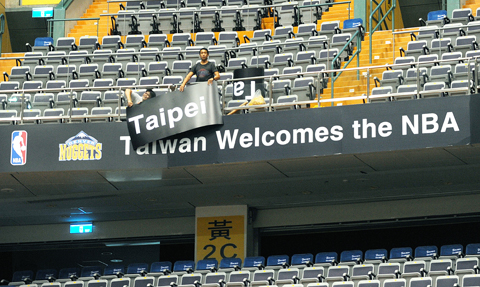 Even Asia has had its share of NBA action: The NBA has played six games in Japan since the 1990s, and has held preseason games in China since 2004, after Chinese star Yao Ming joined the Houston Rockets in 2002: the first game obviously featured the Yao-powered rockets against the Sacramento Kings. In 2009, when the
Nuggets met the Pacers in Taipei
, it became the eight Asian city to host either an NBA regular season or preseason game, along with Tokyo, Yokohama, and Saitama in Japan; Beijing, Shanghai and Guangzhou in China; and Macau.
You know where this train of thought of heading... an NBA game in India? FUGGEDABOUDIT! What is the one thing in common amongst all the other countries that we lack back home in India? We have the money if someone chooses to spend it (for proof, see IPL). Our extra large population ensures that even a small percentage of NBA fans make up for enough to provide enough audience for any game. And the IPL has proven that we have the technological, energy and security infrastructure to host large sporting events.
No, what we really lack back here are good, ol-fashioned
arenas
! Not the kind of
sharp-shooting, gun-toting Arenas
that plays for the former Washington Bullets; no, I mean actual, international quality indoor basketball courts, made of good quality, polished hardwood (or similar surface), with fiberglass boards, and the capability to hold a large-capacity audience. Yes, there are some new courts around the country now which come close, but we're talking NBA-quality here, people! Yes, the NBA has brought in everyone from AC Green to
Dikembe Mutombo opened several courts in India
over the past few years, but we're far, far hehind.
Hell, even the Indian national team has to practice on shoddy surfaces most of the time. One of the biggest complains is that the best players in India play most of their basketball on concrete courts with rubber balls, and so when they move on to play on a hardwood court with a leather basketball they are constantly struggling to adjust. Even the men's national team members that have been
training with JD Walsh, Craig Esherick, and Dr. Bob Baker
in Bangalore have had to work in embarassing facilities.
I'm sorry, but there's no way that David Stern is going to allow his preciously talented millionaire NBA stars to break a sweat in any of our Indian courts.
Who knows, maybe the
Reliance-IMG alliance to develop sports facilities
in India will change things in the future. The extremely distant future. Otherwise, no, no chance in hell.
Go ahead, David Stern, NBA, Reliance... prove me wrong.