Closely following on the news that the
Mahindra Group
will be partnering the NBA to launch a
recreational basketball league in three Indian cities
, here's another corporate venture in expanding sports not named "cricket" in India:
Reliance Industries
, led by India's wealthiest
Mukesh Ambani
is partnering with US-based sports marketing company
IMG Worldwide
in a joint venture to build sports facilities in India.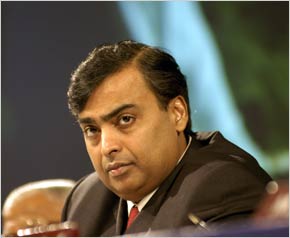 IMG-Reliance will also develop professional basketball and football leagues in India, nurture young talent at the academies, and train coaches in these sports as well.
From the
Business Standard
:
The new company, IMG Reliance, would set up sports facilities across the country to train athletes, thus developing the sports market. The model would be similar to the one followed in mature sports and entertainment markets such as the US. The companies plan to create and operate major sports and entertainment assets.
Mukesh Ambani, chairman and managing director, Reliance Industries, said: "Development of sports and the sporting culture is a social imperative for India in the 21st century. World-class infrastructure, frugal engineering, technology and scientific coaching are an integral part of development of today's sporting talent globally."

Plans are underway to create an agency to offer 360-degree sports management to celebrities from the world of sports, Bollywood and fashion. IMG would transfer its existing business and assets in the country to the joint venture. These include the Aircel Chennai Open, the Association of Tennis Professionals World Tour event and Lakmé Fashion Week.
However, the ongoing Indian Premier League would stay with IMG and the company's international business and executive team is to manage it.
Ted Forstmann, chairman and CEO of IMG, said: "The performance of Indian athletes on the national and international stage will improve dramatically with the correct development strategies. As a consequence, the commercial performance of sport and entertainment in India will be enhanced."
To quote an article from the
The Wall Street Journal
, IMG owner
Ted Forstmann
said that
"the venture's ambitions are to create something akin to England's Premier League, for which IMG produces and distributes television programming... People might laugh at that now, but let's see where we are in five years"
The real potential profits from the venture will come from the development of professional sports leagues. The IMG-Reliance venture will look to strike arrangements with India's soccer and basketball federations to help them build these leagues.
Wow. I don't mean neccessarily good wow or bad wow... Just.. Wow...
It's all really happening now isn't it? When the richest Indian company and one of the most succesful sports management companies from the USA get involved in helping to build facilities and a basketball league in India, you
know
it's more than just empty words.
I've always believed that India's sporting success has always come
despite
the government. Despite the public sector. So, while the BFI plans and contemplates and slowly trudges towards starting a
pro basketball league in the country
, here come Ambani and Forstmann with a lot more money and a lot more vampire fangs to suck into the growing Indian athletic juices. Their proposed basketball and football leagues will not be too different in terms of the commercial standpoint from Lalit Modi's IPL T-20 Cricket league. Purists may completely disregard what the IPL and T-20 have done to the game, but there is no denying that now being a professional cricketer is an exciting and possible option for a lot more Indians than before.
This could turn out well for basketball in India. Better facilities, better training, more money, more talent, better teams, more fans, more merchandise... More basketball.
On the other side, it could all go bonkers... If the soul of the game itself is disregarded. Money may be able to buy a lot of things, but it'll be interesting to see how they manage to buy fans for the game in India. It's not impossible, for basketball and football are very easily likable sports, and are already two of the fastest growing sports in the country. I just hope that, like T-20 threatened to butcher what purists called "real cricket", this league doesn't butcher the game of basketball itself.