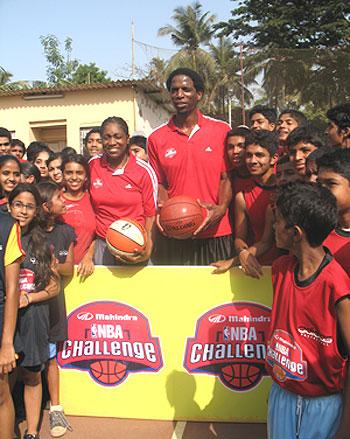 The
Mahindra-NBA Challenge
was tipped-off on April 17th at Mumbai by none other than NBA legend
AC Green
. Green, the former Los Angeles Laker, is known for holding the record for most consecutive games played in NBA history has been to India before, when almost exactly a year ago he
inaugurated the same Nagpada court
that will be host to some of the Mahindra Challenge this year.
Green, a Power Forward / Center, won three NBA Championships with the Lakers (1987, 1988, 2000) and was an NBA All Star in 1990.
Green was also accompanied in Mumbai by former WNBA player Teresa Edwards, who played for the Minnesota Lynx and represented USA Basketball in five Olympics.
The Mahindra NBA Challenge will be held in Mumbai from April 17-June 6, in Bangalore from July 24-September 18, and Ludhiana from July 31-September 25. It will feature a recreational league will run for seven weeks in two divisions: Youth division - ages 14-17; Adult division - 18 and above. The league will comprise of co-ed teams. The Basketball Federation of India (BFI) has worked with the NBA to implement and oversee league operations.
The programme also includes a coaching clinic open to both boys and girls from the age of 14-17 and another category for players aged 18 and above.
From
Rediff Sports
:
About 961 participants have registered for the event and nearly 50 coaches will be trained by NBA's Troy Justice over the six weeks.
"I am very much appreciative and excited about being back here again. Thank you to the Basketball Federation of India for continuous support of basketball and promoting the game," Green said.
"I don't want these kids to just be good players; I want them to be good students of the game. I want them to be team players," Green said.
"I can't wait to get the clinic and the league itself started, to see the beginning and hopefully see the end of it and hopefully some games in between," said Green, who will be in Bangalore on Monday to train with the Indian basketball team.

St Dominic Savio School (Andheri) and Mastan YMCA (Nagpada) will host the Mumbai leg of the competition.

"This initiative is a joint effort of the Basketball Federation of India and the NBA to promote basketball and make it the No 2 sport in India," said Akash Jain, NBA director, International Development, India.
Elaborating on why the NBA picked only the above mentioned cities for the clinic, Jain said, "We did a small study before starting this project and we realized from that that basketball has a huge following in Mumbai, Bangalore and Ludhiana and that is why we have targeted these three cities in this program."
Well, thanks Mr. Jain - that kinda answers why the NBA chose Ludhiana of all people. Except that I have
a different theory
.
And welcome back to India, Mr. Green. It's great to see that Green is also training with the Indian national team in Bangalore following the
training sessions held for the team by JD Walsh, Craig Esherick, and Dr. Bob Baker
. It's cool that Green is back and hopefully the NBA's initiative gets more coverage and hype to popularize the game in India. I'm hoping that we'll get
a current NBA star
at the conclusion of the league.