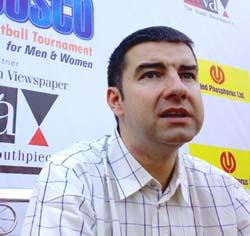 Krishnakumar KH from
Express Buzz
interviewed Alexsander Bucan, the head coach of the Indian Men's basketball team, during
Coaches Coaching Clinic in Kochi
a few weeks ago. Bucan, an experienced Serbian coach, has been in-charge of the
Young Cagers
for around two years. Here are some excerpts from that interview:
India, says Bucan, has the potential to bloom in the 'simple' business of getting through a maze of giant bodies to ram a huge ball through a basket raised high on a pole. Easier said than done, he accepts. But if China, Russia and Iran can do it, so can India, feels the affable Bu­can...

"The Russians and the Chinese are not the biggest of people," he points out. "But they have tall players in their basketball and volleyball teams. That means they identified talent at an early age and put them through scientific training to produce world-class athletes. The same is possible in India." But Bucan contends that producing world-class athletes requires an overhaul of the "amateurish system" in India. "It is professionalism that gets you results," he says. "You need to begin early and find young talent with the right build. Then they need systematic training that includes fitness training, nutritional care and psychology sessions." The Serb has no doubt India has the talent. "I ha­ve seen many talented players at the school and college levels in India. Some are more gifted th­an the national players. Sadly, most of them drop off the game to further their studies or go looki­ng for jobs. No one is rea­lly interested in leaving everything else behind and concentrating solely on the game."

"There is no way the team can impro­ve without playing stro­ng opposition regularly," he says. Further, Bucan is not one to boast without a blueprint — infrastructure, academies, age-gr­oup tournaments, camps, a professional national league at the senior level and cheering crowds.

"Just because you bring in a fo­reign coach, for any ga­me, there is no guarantee the quality will improve," he says.

However, the national coach is quick to point out the improvement made by the cagers in the past few years. "There has been a big difference in standards in the past two years," he says. "But the real difference can be made only with long-term strategies. Stress should be laid on the under-16 level to unearth players with potential."
The most significant achievement during the past two years is the triumph of the Indian under-17 team at the 2008 Asian FIBA 33 championship — which allows just three players per team. It was the first time an Indian basketball team at any level had achieved such a feat. "We beat the Philippines, where basketball is as big as cricket in India," says Bucan.
Regarding coaching, he feels it is tactical play that requires greater attention once the basics are in place. "We are far behind world-class standards in terms of contact play," he says. "Also, there has to be more set play than what the players are used to here."
Read the
full article here
.
What I found particularly interesting about this interview was Bucan's admittance that bringing in a foreign coach doesn't neccessarily guarantee an improvement. We Indians have historically had a niggling inferiority complex to foreigners, and this is true in sports, too: Gary Kirsten has managed to steadily improve the cricket team, but the credit for that should go to the captain MS Dhoni as much as the coach. Sure, it is neccessary for our coaches to learn new skills and techniques from around the world, but it is also important for the coach to know about local knowledge, playing styles, and conditions, to offer a holistic improvement of the team.
I also hate to say this, but in more cases than not, a positive fact about bringing in a foreign coach is that he or she is free from the political pressures and the corruption at every rung of the ladder that Indian coaches have to suffer through. This freedom tends to insinuate misunderstanding or jealousy amongst their local counterparts who are already
used to
a certain system, but in the end, the priority is to worry about a degree of professionalism in team selection and play.