Here's great news if you are a baller in Ludhiana, Bangalore, or Mumbai. Or a fan of the NBA. Or capitalism. A day after BFI General Secretary Harish Sharma spoke to me about the
possibility of a pro basketball league in India
, the NBA and industrial conglomerate
Mahindra Group
announced a partnership to launch a new multi-city community-based recreational basketball league in those three cities.
The league will be called the
Mahindra NBA Challenge
, and will run for seven weeks every year in two divisions: Youth division - ages 14-17; Adult division - 18 and above. The league will comprise of co-ed teams. The
Basketball Federation of India (BFI)
will be working with the NBA to implement and oversee league operations.
The league will tip off on April 17th at the St. Dominic Savio and Mustan YMCA courts in Mumbai. Individuals and teams will be allowed to register beforehand by visiting the NBA-India website. Over the seven weeks, each team will play each other in one game a week (that's it?!), and the best teams will play in a "postseason" knock-out tournament at the end of the regular season in each city.
Here's more info and quotes from
NBA.com/India
:
The Mahindra NBA Challenge will provide basketball enthusiasts and newcomers to the game the opportunity to learn the fundamentals of the game and apply their skills in a fun, competitive environment.
"We are delighted to be partnering with the NBA to create a multi-city recreational league in India," said Anand Mahindra, Vice Chairman and Managing Director, Mahindra Group. "In a cricket loving nation such as India, we feel it is important to encourage other sports as well and we believe basketball is perfectly suited to bring communities together and promote healthy, active lifestyles to Indian youth."

"Mahindra is the perfect partner for the creation of a new recreational basketball league for Indian fans," said NBA Commissioner David Stern. "The BFI, Mahindra and the NBA share a long-term commitment to growing the game in India and to using the values of our game to make a positive, lasting impact in Indian communities."
"Basketball continues to grow in popularity across India and now youngsters in Bangalore, Ludhiana and Mumbai will have the opportunity to play in an organized league and further develop their skills," said Harish Sharma, Secretary General of BFI. "The launch by Basketball Federation of India and the NBA of the Mahindra NBA Challenge is very exciting and will help accelerate the basketball development of Indian youngsters."
What does it mean for basketball in India? Well, a mini-recreational league may not be the ideal solution for promoting love for basketball here, but at least it's a start. With the NBA lending its name, the league definitely has the backbone to create enough of an interested niche amongst fans and ballers.
What is more important is if the league is succesful in garnering media/fan/player attention, that the BFI continues with its plans to start official school/college leagues with more than 'recreational' incentive. These efforts will eventually pave the way for a pro basketball league in India that will replace the current service-team/tournament system.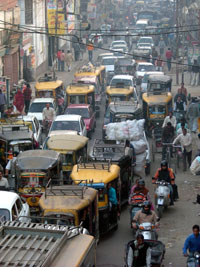 On a side note: one of the three cities where this league will be launched is Ludhiana. Really? I've been to Ludhiana - my sister-in-law's from Ludhiana. It's alright, but was it really one of the three choices for an NBA-backed recreational basketball league? Not for basketball reasons, it wasn't - but Ludhiana
does
happen to have one of the fastest growing economies in the country. I'm not saying that there aren't basketball/NBA fans in Ludhiana - it is just less compared to a whole host of other (bigger) cities in India. Ludhiana is less of a basketball city and more of a Mercedes city (look it up -
residents of 'Ludsville' are Merc-fiends
). Forgive me if I now quote the Wu-Tang Clan to describe the real reason for NBA/Mahindra to look here: "Cash Rule Everything Around Me, C.R.E.A.M., Get the Money!"
Also, didn't anyone tell the NBA that Bangalore is now Bengaluru (still sounds wierd to me)? Someone release the
Ram Sene
on David Stern already!
In the end though, in India, any basketball news is good basketball news. I'm excited about this venture and hope that it spreads to more cities - New Delhi, Chennai, Hyderabad, Chandigarh, and others.