Now, I will be the first to admit that I don't know right from left when it comes to NCAA basketball in the States. Since barely any games or promotion is done in India, it is only out of curiousity that I know anything at all about it. It is important for me, for instance, to know where the world's best basketball player in the NBA came from, or what kind of challenges and competition they had in their younger years.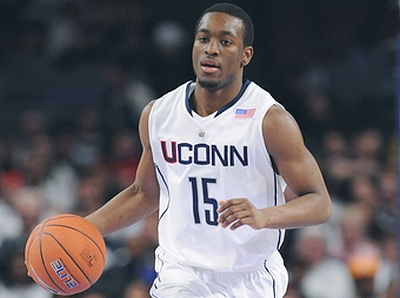 But otherwise, there is very little other interest. Yes, I know, as those who swear about college ball will say, that the games are perhaps more exciting sometimes. Most teams are closely matched, the atmosphere in the games are excellent, and the players seem to try harder. But I'm not completely sold on it. I hate the idea of 35-second shot clocks, shorter three-point lines, and lots and lots and lots of really bad offense.
Still, every once in a while, a story comes out that even the least interest ones can't help but follow. The story this year, I believe, has been of University of Connecticut (UConn) point guard Kemba Walker. A solid but generally unspectacular player in his first season, he improved in year two, and by the time he was a Junior, he became one of the best players in the country, making the biggest plays all year and leading his team to a National Championship title. His clutch play, and leadership has already become stuff of legend.
And his buzzer-beaters
have taken YouTube by storm!
Walker is a slashing quick guard, known for this ball-handling ability and accurate jump-shot. At 6 foot, he may be a tad bit undersized, but in today's NBA, a league that favours the confident, fast small men, he could blend in easily.
UConn capped off a fairytale run in the NCAA tournament by leading the Huskies past Kentucky in the Final Four, and then beating Butler 53-41 in an ugly, high-on-defense-low-on-offense game in the Final to win the National Championship on April 4th. It was the UConn Huskies' third championship in the last 11 years. Jeremy Lamp also played a crucial role in the second half of the Championship game. Walker was named the NCAA Tournament's Most Outstanding Player.
His only shortcoming was being snubbed for the
Naismith Men's College Player of the Year
award, which went to another small guard, Jimmer Fredette of BYU. "The Jimmer", who has also had an outstanding season, may have shown his brilliance when it came to individual scoring, but in my opinion, this award should've been Walker's all along.
Now, to judge how successful college players will be in the NBA, I rely almost exclusive on my favourite scouting website,
DraftExpress
. At this point, Walker, if he goes pro, as been ranked as the 6th overall pick in the 2011 draft. From afar, it seems to be a year without any guaranteed future pro superstars, but I'll be rooting for Kemba to fight amongst the likes of Kyrie Irving, Harrison Barnes, Derrick Williams, Perry Jones, and Brandon Knight.
And for my interest in college ball? Let's hope someone can figure out to show more of the NCAA tournament games in India next year. Maybe, just maybe, I'll start to warm up to it.