The American basketball future - much like the American basketball present - is shining bright.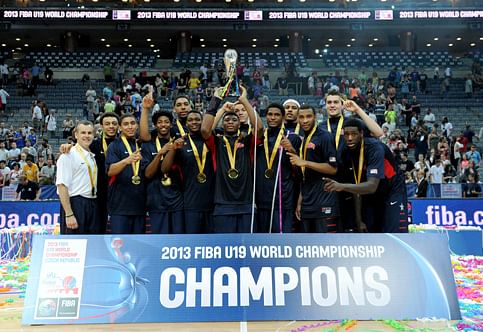 USA's under-19 Men's Basketball team defeated Serbia on Sunday night in Prague (Czech Republic) to lift the
2013 FIBA U19 World Championship
for a record fifth time. No other team has won the tournament more than once. The USA used an impressive 13-1 run in the fourth quarter to sneak away
to a 82-68 victory
, thus ending the tournament undefeated.
It was Serbia's second consecutive silver medal at the tournament, after finishing as runners-up to Lithuania in 2011.
The Americans, who were dominated through the course of the tournament, were given some healthy competition for three quarters by a feisty Serbian side in the Final. Jovan Novak of Serbia was the game's leading scorer with 21 points, but the USA used a balanced attack, led by forward Montrezl Harrel (17) to slip away to victory.
USA's Aaron Gordon, who only had six points and six rebounds in the Final, was named the tournament's MVP for his efforts leading up to the Final game of the tournament. He was the finest amongst near-equals in a balanced USA team. Gordon, who is committed to the attend Arizona next season, is one of the brightest young American players and was named the MVP of the 2013 McDonald's High School All American game.
Defending champions Lithuania had to settle for the bronze medal after defeating Australia 106-100 in overtime earlier in the day. Lithuana were led by Tomas Dimsa (19) while Dante Exum (28) and Dane Pineau (20) led the way in a losing effort for the Aussies.
Earlier on the semi-finals, USA had destroyed Lithuania 100-60 in a balanced effort led by Marcus Smart. Nikola Jancovic scored 21 points to lead Serbia past Australia 63-58 in the other semi-final. Dante Exum had 20 for Australia.
Final Standings
1. USA
2. Serbia
3. Lithuania
4. Australia
5. Spain
All Tournament Team
Jahlil Okafor (USA)

Aaron Gordon (USA)

Dario Saric (Croatia)

Dante Exum (Australia)

Vasilijie Micic (Serbia)