If the NBA's best players took part in a 1-on-1 tournament, who would win?
In
Part 1 of this article
, which I wrote yesterday, I argued that right now, with the NBA's players locked out of playing in the NBA, and with the common fan too bored out of his wits, the players need to play in an epic 1-on-1 basketball tournament. An event like this would bring more attention than any meaningless charity game, and spike fan interest like never before. We have all dreamed about the NBA's best players facing each other: now's a chance for them to actually do it.
Read
my article from yesterday
to know about all the logistics of making it happen, and the rules of the tournament. Basically, each half-court game will be up to 21 points, or up to 15 minutes. We play 'Loser's Ball' after each basket. I've also chosen to carbon copy the FIFA World Cup format for this tournament: 32 players in 8 groups of four each, and then the top 2 from each group move on to the knockout stage of 16, and so on and so forth.
Now, a little about the 1-on-1 format: to anyone who has played basketball 1-on-1 (which means, pretty much anyone who has played basketball, ever), you know how it differs from the 5-on-5 full-court game. The 1-on-1 game favours players with different talents. The best 1-on-1 players will be those who are good ball handlers, good shooters, players with speed, players who can finish well around the basket, good man-to-man defenders, players who can steal and block well, good rebounders, and those with good stamina. Big players who can't dribble well, create their own shot, or have a bad jump-shot wouldn't do too well.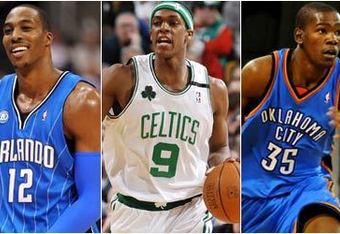 So here is my fantasy tournament. I first picked the 32 best players in the NBA - not the 32 best 1-on-1 players - I mean the absolute best. This way, we can actually see how much better certain players are in this format than others. Secondly: I divided the players by their talent into four 'pots': 1-8, 9-16, 17-24, 25-32. Third step: I wrote the names of all the players of each pot separately, and then, one by one, I picked a chit of paper from each pot to make each group in my tournament fair. This was just like the FIFA draw, y'all! You'll have to go by my word here: I kept the system a 100% honest. Each group had a Pot 1, Pot 2, Pot 3, and Pot 4 player. Finally, I played out the fantasy tournament using my own knowledge and opinion.
Now, a lot of you will debate my decisions: my decision of the top 32, my decision of which player goes in which 'pot', and my decision of which player beats whom. I'm sure that no one will agree with everything, but I hope that you are able to see some sort of logic in my decisions by the end of it. If not, you're welcome to tell me how your own fantasy tournament would play out!
Players Qualified for 1-on-1 Tournament
(Alphabetic Order): Al Horford, Amar'e Stoudemire, Blake Griffin, Carmelo Anthony, Chris Bosh, Chris Paul, Danny Granger, Deron Williams, Derrick Rose, Dirk Nowitzki, Dwight Howard, Dwyane Wade, Joe Johnson, John Wall, Josh Smith, Kevin Durant, Kevin Garnett, Kevin Love, Kobe Bryant, LaMarcus Aldridge, LeBron James, Manu Ginobili, Monta Ellis, Pau Gasol, Paul Pierce, Rajon Rondo, Russell Westbrook, Stephen Curry, Steve Nash, Tim Duncan, Tyreke Evans, Zach Randolph.
Player SeedingPot 1 (1-8):
Carmelo Anthony, Derrick Rose, Dirk Nowitzki, Dywane Wade, LeBron James, Kevin Durant, Kobe Bryant
Pot 2 (9-16):
Amar'e Stoudemire, Chris Bosh, Chris Paul, Deron Williams, Pau Gasol, Rajon Rondo, Russell Westbrook, Zach Randolph
Pot 3 (17-24):
Blake Griffin, John Wall, Kevin Love, LaMarcus Aldridge, Monta Ellis, Paul Pierce, Steve Nash, Tyreke Evans
Pot 4 (25-32):
Al Horford, Danny Granger, Joe Johnson, Josh Smith, Kevin Garnett, Manu Ginobili, Stephen Curry, Tim Duncan.
Then followed the group draw... After
fairly
picking one chit each from each pot, these are the eight groups we got. Remember, each player plays against the three players in his group, and the top two players from each group move on to the next stage. The standings will be based on wins, head-to-head win, and then, on point difference.
GroupsGroup A:
Dwyane Wade, Chris Paul, Kevin Love, Joe Johnson
Group B:
Dirk Nowitzki, Amar'e Stoudemire, Monta Ellis, Kevin Garnett
Group C:
Kobe Bryant, Deron Williams, Steve Nash, Tim Duncan
Group D:
Dwight Howard, Pau Gasol, Tyreke Evans, Manu Ginobili
Group E:
LeBron James, Rajon Rondo, LaMarcus Aldridge, Danny Granger
Group F:
Derrick Rose, Zach Randolph, John Wall, Josh Smith
Group G:
Kevin Durant, Chris Bosh, Blake Griffin, Stephen Curry
Group H:
Carmelo Anthony, Russell Westbrook, Paul Pierce, Al Horford
As you can see... We already have some interesting match-ups already. Wade vs. Paul, Rose vs Wall, etc. Now let's move on and quickly decide who wins each group.
Group A:
A lot of you may be questioning my decision to keep Chris Paul in the second pot, but he wasn't top 8 to me (he was 9), and thus, we have this interesting match-up straight away between Wade and Paul, two of the best 1-on-1 players in the world. Joe Johnson will be a dark horse here, of course, but although he has the talent, I don't think he has enough heart to defeat Wade or CP3. Kevin Love isn't going to win any games - the 3 guards will be too quick for him.
Wade
finishes this group at the top, beating Chris Paul in their head to head match.
Paul
ends at second place.
Group B:
This will be an amazing group, I think - each player brings their own specialty to this format. Dirk will have the best perimeter pull up jumper, and thus, the best fake-and-attack-the-basket move. Amar'e is quite athletic for his size, and will be able to hit the mid-range jumper. Monta Ellis is brilliant in 1-on-1 format, as quick, can shoot well, and can hit tough layups. Kevin Garnett, though old, will be a great defender and a good mid-range shooter for his height. It will be very tough to score on him. I think Dirk will be able to beat Amar'e quite easily, but will struggle against Monta's speed and KG's length: still, I'll favour
Nowitzki
to survive those two tough games and end at the top of the table. Second place will be interesting: I think Garnett will beat Amar'e, because of his sheer intensity which Amar'e won't be able to match. But
Monta Ellis
will be the surprise package here, as I think he'll speed by both the big men to end at second. A young KG would've probably topped this group, but he's much older and slower now.
Group C:
OOOH! This is a group of vets, and all technically gifted players: Kobe, Deron, Nash, Duncan. I'm looking forward to see Kobe go toe to toe with his two great playoff nemises: Nash and Duncan. Duncan will honourably lose all three games he plays in, but Nash, because of his shooting ability and speed will remain a pest.
Kobe
though is too gifted for anyone in this group and will finish at top. The game to watch will be between Deron and Nash - Nash has the better jumper and can score quickly, but Deron Williams is stronger and Nash, a bad defender, may not be able to stop him. I say a close 21-19 win for
Deron Williams
decides this group and takes Deron into the next round. On a sidenote: Kobe beating Duncan in this group will be the largest win of this tournament. I expect Kobe to win around 21-5 here.
Group D:
First off, this group satisfied
an old fantasy
of mine: Dwight Howard vs. Pau Gasol, two players who visited India last year, and two of the best post players in the NBA. Although I admit now that Howard is a better overall basketball player, the 1-on-1 game will favour Gasol, and he will win this iconic match-up. But really,
none
of the two are moving on to the next round (Yes - I said it!). Because both Tyreke Evans and Gibobili will be specialists in this format and will cause upsets against the big names. My older brother believes - and I agree with him to a certain degree - that Evans may be one of the best suited players for this format, because of his size, strength, ball-handling, and ability to finish around the basket.
Tyreke
will top this group,
Ginobili
will come second.
Group E:
LeBron's fodder? No one but Rondo is going to give LeBron any trouble, and even against Rondo, LBJ should do okay.
LeBron
will steamroll past all three opponents to finish on top. Danny Granger may cause some trouble to Rondo, but I think Rondo's speed and fighting spirit will be too much. Too many 1-on-1 games are won by players solely on confidence, and
Rondo's
confidence may make up for his lack of a jumpshot. He'll finish second.
Group F:
Derrick Rose vs John Wall, I'm already salivating. Two of the fastest, most athletic point guards in the history of the game. This group belongs to them. Randolph and Smith will be too big and slow to keep up with the PGs. And in the dream game, Rose will have the better of Wall because of his better outside shot and his experience.
Rose
finishes 1st,
Wall
2nd.
Group G:
Three athletic forwards - Durant, Bosh, and Griffin - make this group exciting. And then there's Stephen Curry, who is as good a shooter as he's a dribbler. Expect nobody to have an answer for Durant - his jumpshot will be on fire, and he has the length to matchup to the other forwards.
Durant
will finish on top, and I predict that
Curry
will surprise the other two to finish at second place. Bosh vs. Griffin will be an interesting game: although Griffin is more athletic, I think Bosh can post up and shoot better, which will help him win the close game in over time.
Group H:
I'm calling upset here, folks. This group has Melo, Westbrook, Pierce, and Horford. Horford will lose all his games. The other games will be incredibly close. Melo vs. Westbrook, Westbrook vs. Pierce, Pierce vs. Melo. Carmelo Anthony may be the most talented player here, but he has one glaring weakness: comfortable creating his own shot from the perimeter. Melo needs to find his spot, get the ball, and then drive in or shoot - with a man constantly guarding him, this may not be possible. Plus, Melo is the worst man-to-man defender here. I say
Westbrook
wins all the games and tops the group. This leaves an amazing Paul Pierce vs. Carmelo Anthony game to decide second place. And guess what? I'm calling
Pierce
. It will be a grueling game, but Pierce has the ability to dribble, create his own shot, and get contact better. Anthony will have the better mid-range shot, but Pierce's isn't too bad, either. The game will go into overtime, Pierce wins, making him the final and unexpected entry into the last 16.
Second Round
I'm sticking really close to the FIFA model. So this is what happens in the second round, the knockout stage of the 16 remaining players.
A1 vs. B2 - Dwyane Wade vs. Monta Ellis
C1 vs. D2 - Kobe Bryant vs. Manu Ginobili
E1 vs. F2 - LeBron James vs. John Wall
G1 vs. H2 - Kevin Durant vs. Paul Pierce
B1 vs A2 - Dirk Nowitzki vs. Chris Paul
D1 vs. C2 - Tyreke Evans vs. Deron Williams
F1 vs E2 - Derrick Rose vs. Rajon Rondo
H1 vs G2 - Russell Westbrook vs. Stephen Curry
Wade vs. Ellis:
Ellis is good, just not Wade good. This game will be one on Wade's defense versus Ellis lack of D. Wade will attack the basket at each opportunity, win fouls, and on the other side, hound Ellis.
Wade
wins.
Bryant vs. Ginobili:
Oh boy! Another match-up of two guys who have fought many playoff battles against each other. And by fought,
I mean literally, fought.
But Ginobili, for all his wily skill, is now way past his prime, while Kobe has remained skilled and deadly.
Kobe
will end this old rivalry with a win. I'm assuming that flopping wouldn't get Manu any calls.
James vs. Wall:
Wall will try to speed past initially, but LeBron James, with his length, athleticism, and strength, will be
way
too much for the young Wall. LeBron is a better shooter too, and Wall wouldn't be able to defend him.
LeBron
wins.
Durant vs. Pierce:
This is where the Pierce fairytale end. He'll meet a bigger, better version of Carmelo Anthony vs. Durant, and
Durant
will use every trick in his offensive skill-set to get past Pierce.
Nowitzki vs. Paul:
Two completely different dominant players, two completely different styles. How will this play out? How will Paul defend Dirk's jump-shot. How will Dirk defend Paul's drive to the basket. Dirk isn't a good 1-on-1 defender, and to me, that will finally be the difference. Trailing in this game, Dirk will start relying on three-pointers to make a comeback, but Paul will be able to pester him and take advantage of Dirk's below-average dribbling ability. In a close fight to the finish,
Chris Paul
will win to advance to the Quarter-Finals. Sorry Dirkophiliacs.
Evans vs. Williams:
Evans is suited for this format, yes, and will be trouble, yes. He is stronger and taller than Deron Williams, but Deron isn't too weak himself. Plus, Deron's advantages are shooting ability and quickness. It will be a battle which will leave
Deron
bruised for the next round, but he will survive to move on.
Rose vs. Rondo:
Another
amazing
matchup. If you aren't excited to watch these two play against each other, then you don't like basketball. Rose is slightly quicker, Rondo slightly stronger. Both can finish well around the basket. But Rose's jump-shot is better, and when these two start getting tired and settling for outside jumpers (it happens all the time in 1-on-1 games),
Rose
will prevail.
Westbrook vs. Curry:
Russell Westbrook has a similar skill-set to Rose, and with his confidence to attack, he is a very dangerous 1-on-1 player. Curry will have moments of brilliance, but this game belongs to
Westbrook
.
Quarter-Finals
I couldn't have scripted the line-ups better. Through my random picking and groupings, we have now reached a stage of four games, each of which more amazing than the last. These are my Quarter-Finals. Hold your breath tight.
Dwyane Wade vs. Kobe Bryant
LeBron James vs. Kevin Durant
Chris Paul vs. Deron Williams
Derrick Rose vs. Russell Westbrook.
Oh. My. God. If I asked four people to vote on their favourite match-up, we would get four different answers. I'm dying just thinking about it. In each game, both the players play the same position, and in each game both are amongst the best in their position.
Wade vs. Bryant:
The league's best shooting guards. The two best shooting guards since Michael Jordan (sorry, Iverson (
But on a sidenote: if there was a 1-on-1 tournament 10 years ago, no 1 would be touching AI
)). In their different ways, these two players have embodied MJ like no other. Wade finishes like him, has the winner's mentality like him. Kobe has the same style of movement, shooting, and of course, the winning mentality. If there are two players who hate to lose in the world, it's these two. So who wins this amazing match-up? Kobe's a better jump-shooter, he's taller, better free-throw shooter, and he's smarter. Wade is far more athletic now, can finish better than anyone in the world around the basket, is better at creating his own shot, and is quicker. Both are great defenders, but Kobe's slightly taller. My prediction: Dwyane Wade's drives to the basket will be the key to this game. Two years ago, Kobe could've stopped him, but Wade today has the edge today. Still a tough call though. Kobe will hit his outside shots, and he'll beat Wade off the dribble a few times. But with the game tied at 20, it will be
Wade
who will pull his deadly
two step/euro step
, and rush to the basket, leaving Kobe behind and qualifying for the Semi-Finals. When I had asked about this tournament to Indian followers on Facebook, an overwhelming majority had voted for Kobe. Sorry guys, but 2011 KB24 isn't 2008 KB24 or 2005 KB24 or even 2001 KB24. He faced a tough opponent too early and he's eliminated.
James vs. Durant:
The league's best small forwards. One is the ultimate all-round player, one of the greatest the world has ever seen. The other is a shooting guard in a power forward's body, and also the league's best scorer. Because of his size, Durant matches up well with LeBron, even though he is weaker. Durant will be dangerous from the three-point line and might take a big early lead. But LeBron will crawl his way back, defeating Durant on the defensive end first, and then tiring him out with his strong drives to the basket.
LeBron
may be a better team player than a 1-on-1 player, but in this instance, he will be good enough to defeat KD. Only a few people can stop Durant's outside shot, and I think LBJ is one of those few.
Paul vs. Williams:
Two of the best 'pure' point guards. Drafted in the same year, into similar teams, with similar needs, and picked just one spot apart from each other. There is little to say between Paul and Deron, who PGs whose careers have been eerily similar. There is
very
little to call between these two: Williams is stronger, but Paul is quicker. Both have equally good outside shots. Deron could post up against Paul, but Paul is good at taking contact and finishing lay-ups + floaters around the basket. In another game that will go to the wire, Paul will win by two or three points.
Rose vs. Westbrook:
Two of the best new-age point guards. Rose is the MVP, Westbrook is a very similar style of player and Rose's toughest challenger in his style of play. Still, I think that, in everything that Westbrook is good at, Rose is a little bit better. And Rose seems to have more of a level head on his shoulders, which will help him when the going gets tough.
Rose
wins.
Slam Dunk + Three-Point Championship
Hey! It's time we take a break before the last two rounds - so, as I had suggested yesterday - we need to have some exhibition competitions here.
Slam Dunk Competition:
Blake Griffin
wins, duh. If you doubt me,
go here and see.
It doesn't matter who else is participating, but just so you know, the runners-up will be Dwight Howard, John Wall, and Amar'e Stoudemire.
3-point Competition:
The field is set with self-proclaimed 'best shooter in the world' Paul Pierce, the Warriors' sharp-shooting duo of Monta Ellis and Stephen Curry, Dirk Nowitzki, Kevin Durant, Steve Nash, Danny Granger, and Carmelo Anthony. This will be
Dirk's
opportunity to make up for his early departure, and he'll defeat his old teammate and friend Steve Nash in the last round to win.
Semi-Finals
Back to business, then. Things are getting serious, and so are the matchups.
Dwyane Wade vs. LeBron James
Derrick Rose vs. Chris Paul
Wade vs. James:
Obviously the pick of the round, and perhaps the most important game of the tournament. Two close friends, two team members, two team leaders, two scorers, creators, two guys from the same draft class, two of the most similar dominating players of the league, and in my opinion, the league's two best overall basketball players. Could you really ask for more drama? The world has been wondering ever since Miami paired these two together about who is the alpha dog amongst them, who is better. They took turns dominating the league the whole season. In the NBA Finals, with LeBron playing passively in Game 3, Wade finally
called him out
, showing the first sign of friction between the eternal super-buddies. It's time to capitalise on that and build a spicy rivalry. Who do you think wins in a 1-on-1 game? LeBron may be a better all-round talent, but can he really match Wade, who is a 1-on-1 specialist? LeBron is bigger and a slightly better three-point shooter. Wade is quicker, more creative, and can finish better. LBJ will use his size advantage defensively, and will also test Wade's iffy outside shooting. Wade will counter it by driving hard to the basket and winning fouls. LBJ will do the same. This will be a tough, defensive game, and I say both of them will have a tough time in scoring. After 15 minutes, both LeBron and Wade will be tied on 17 each. We go into a 3 minute overtime. It is here that the winning mettle will show, and LeBron's close-game crisis will overcome him. Wade lives for tense moments, LBJ has recently died by it. Both players will get to the line, Wade, a better free throw shooter, will make more of his shots.
Wade
wins the emotional game, hugs his team-mate, and heads to the final.
Rose vs. Paul
After the emotional roller-coaster of the last semi-final, this one will be relatively underwhelming. Chris Paul doesn't have the deadly scoring instinct that Derrick Rose has. Plus Rose is a quicker player. Paul will be settling for his jump-shot a lot and will rely on tough defense to stop Rose, but
Rose
is another player designed to be unstoppable in this format - he will beat Paul and enter the final.
FinalDywane Wade vs. Derrick Rose
Fitting, I think, because before starting this tournament, I would've imagined these two to be the best 1-on-1 players in the NBA. Well, here we have it now: two incredible guards, both hailing from Chicago, and players with similar styles and intensity, going head to head in the final against each other. Rose will rely on his speed once more, but Wade matches him in ball handling ability and quick change of direction. The one advantage that Wade has is that he can dominate defensively and play well even when the game is slowed down. Rose will get quick early baskets, but with both of them tiring out, it will be Wade who will be stronger towards the end. Both players will use similar weapons from their arsenal against each other, but being bigger, stronger, and better on the defensive end, it is Wade who will hold the advantage. In a down to the wire game,
Wade
will be the first to the finish line, beating Rose 21-18.
WINNER: Dwyane Wade
So there you have it: After several exciting match-ups, close games, upsets, and with the settling of many old rivalries, the creation of many new ones, Dwyane Wade will be the last one standing and the winner of the 1-on-1 championship.
Agree? Disagree? Overjoyed? Fuming? With the format that I have presented, how do you think the tournament will proceed? Who do you think will the ultimate 1-on-1 champion? Let me know your thoughts, where I went wrong, where I went right, whom I overrated, whom I underrated.
Whatever your opinion, I'm sure we'll agree on one thing: THIS NEEDS TO HAPPEN. This will be every fans dream, and will settle numerous debates and confusions about 'who is better' (1-on-1 at least). And after that, we can start hoping to finally seeing these guys do what they do best: play REAL 5-on-5 basketball for their NBA teams. Until then,
enjoy the court(room) drama.