The shortest player to ever suit up in an NBA jersey -
Tyrone "Muggsy" Bogues
-
was in India on Monday
, the 9th of January, to host a clinic for the NBA and the United States Senate India Caucus at the Modern School (Barakhamba) in New Delhi. Bogues interacted with around 75 local schoolkids and was welcomed by five visiting members of the American congressional delegation.
At 5 foot 3 inches, Bogues didn't let height be a factor over his skills as the point guard played in the NBA from 1987-2001. Bogues was drafted by the Washington Bullets in 1987 where he played for his rookie year before being picked up by the expansion Hornets side. After 9 successful years in Charlotte, he played for the Golden State Warriors and the Toronto Raptors in short stints before ending his career in 2001.
In Delhi on Monday, Bogues visited the Modern School to interact with several young basketball players, mostly from the Modern School itself or from the Delhi Public School in RK Puram. Aided by India's Women's under 16 Jr. National Team Assistant Coach and former Sr. National Team Player
Shiba Maggon
, Bogues started his clinic in the afternoon by focusing on his biggest strength, one that helped him conquer opponents much taller than him: dribbling. "Control the ball, don't let it control you," Bogues told the kids, as he helped them practice several skills including crossvers, running with the ball, changing hands while dribbling, changing directions, footwork, and focusing on dribbling with the fingers. Bogues also worked on drills for chest passes and for lay-ups, focusing on beating the defender with a crossover dribble before exploding for an open lay-up.
"If you really want to be a basketball player, you have to practice hard: dribble the right way, and shoot the right way, and above all, develop good work ethics," Bogues told the gathered youngsters, "A lot of people told me when I was young that I wouldn't make it, but I did, and I survived the NBA for 14 years. This was only because I believed in myself. You have to believe in yourself too and understand the importance of self motivation to achieve your goals."
Joining Bogues at the event was
Senator Mark Warner
from Virginia, the Senate India Caucus Chairman, along with four other members of the Caucus from across the USA, who are
on an official visit to India
from January 7-14th. The two American Head Coaches of India's Senior Men's and Women's teams - Kenny Natt and Pete Gaudet - also attended the event.
After the clinic, the delegation from the US took part in a short shooting competition with the local school kids. An exhibition game was then held between two teams of the Mahindra NBA Challenge: U16 Boys teams from Modern School and DPS (RK Puram).
Earlier in the day, I got an opportunity to hold a brief interview with Muggsy Bogues, a player we know as the shortest to ever play in the NBA, but whom NBA India's Senior Director Akash Jain called the "player with the biggest heart". Here are some of the excerpts from the Q&A:
Hoopistani: What brings you here to India? Is this your first time?Muggsy Bogues:
Yes this is indeed my first time here. I'm only visiting Delhi and will be here for a day. The NBA has brought me here to come and promote the game of basketball in India. The NBA has a long term commitment, which is to expose the game in this country. I will also be promoting the benefits in health, lifestyle, and life-skills that grow along with the game of basketball. I believe that there is a lot of untapped potential for basketball in India.
Hoopistani: It seems that the NBA is keen to abolish the notion that one needs to be tall to be a basketball star. 6 foot 1 Brandon Jennings was here preaching the same purpose last year. Is that the message that you are bringing here with you as well?MB:
Yes, that that is exactly the message that I want to spread here in India. Height isn't everything. When I was growing up, many people told me that I would never make it. But I felt like I had the potential to play well. I developed a lot of confidence in myself over the years and I was able to show that even someone at five foot three inches could play basketball - which is known as a 'tall man's game' - at the highest level, the NBA. Without that confidence and self-belief, players like me or Brandon Jennings would've never made it.
Hoopistani: At the grassroots level in India, a lot of players are still scouted based on their height first and talent second. Was this also the case in the US when you were younger?
MB:
Yes, it was very similar, to an extent. People thought that in basketball, height equaled talent, and there were few opportunities for smaller players. But I always believed that the game is for whoever has the skills to play, not just for six or seven footers! I want to pass on that same belief to Indians who are still at an early age.
Hoopistani: Was it a struggle for yourself - as a shorter player - to have coaches and scouts recognise you for your natural talent and hand you opportunities?MB:
Yes, I had to change the mindset of a lot of coaches when I was young who believed that height was the only important thing. I competed and played well against those bigger than me to change the perceptions. But what helped me is that I understood my point guard position and absorbed all the knowledge I could relating to that position. I had to play to my strengths, which were dribbling and passing the ball. A lot of smaller players who are point guards think that they have to score a lot to be effective and sometimes, this can hurt them. That's why a point guard has to know when to score and when to get his teammates involved.
Hoopistani: Smaller players are anyways having more and more influence on the NBA nowadays: Does the future of the league belong to the point guards?MB:
You know, the NBA is about trends. If one team is succeeding in a certain style of play, others will try and copy that style. These days, yes, a lot of good players are small: even the shooting guards. In my time, most of the shooting guards were around 6-5 or 6-6; now, there are a lot of smaller SGs like Jason Terry or JJ Barea who are making a difference.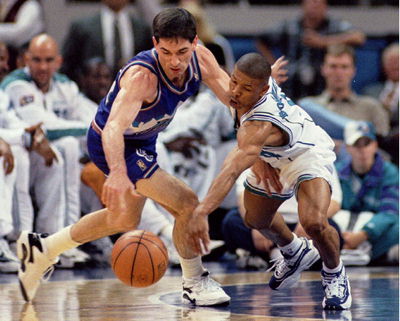 Hoopistani: What tips would you give an undersized point guard such as yourself who have to defend taller opponents at their position?MB:
I always felt that defense was one of my biggest assets, and I worked by taking my defensive stance early to prepare for the opponent. What I would teach an undersized player that it is all about will. Once you learn the basic principals, it is just your will, not your technique, that will make you an elite defensive player. You have to make your opponent work hard.
Hoopistani: What other expectations do you have for your trip in India, which is a country growing to love the game of basketball?MB:
I'm really excited to be here. It'll be a thrill to speak to young players here and show them that someone at my size is also capable of being good at the game of basketball. I have little other expectations: I know basketball has a promising future in India, and I hear that there is some talent here, too. Recently, I was reading about the Indian seven-footer
Satnam Singh Bhamara in ESPN Magazine
, a young basketball star from this country, and the next thing I know - I'm being called to India by the NBA! Satnam is in Florida right now, so I won't have a chance to meet him, but I hope to catch him someday!
Hoopistani: Finally: You were a star for the Charlotte Hornets for several years and now you work in that city, but the franchise has since moved to New Orleans. Where do your loyalties lie: with the Hornets or with the city of Charlotte?MB:
Definitely with the city of Charlotte. I played in that city, my entire fan base was in that city, I'm now involved with the Charlotte community now and coach High School basketball there. Apart from taking the 'Hornets' name, the team in New Orleans is an entirely different franchise now.