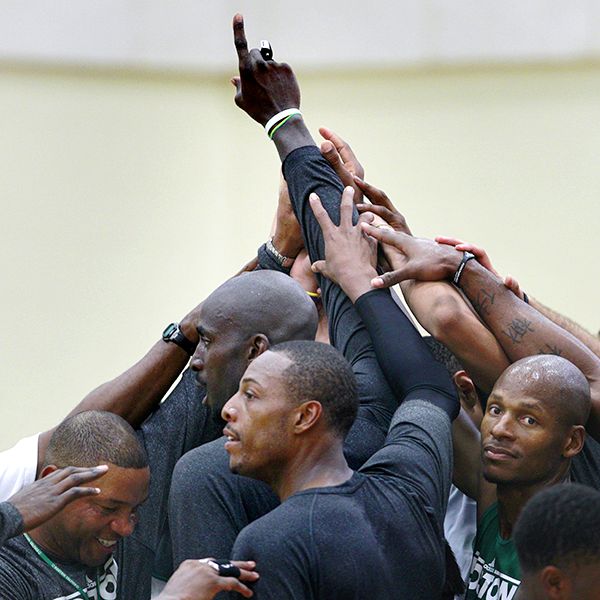 It is now roughly halfway through the 2010-11 season, and you know what that calls for? Mid-Season predictions! Last year, cautious over all of the changes that might befall at the trade deadline, I waited till the end of Feb to make
my mid-season predictions
. This time around though, I'm going to take a brave plunge and do the predictions a month earlier, just to make the process fairer, math-wise.
Last year, I'm proud to say that I was correct in several categories. Lakers won the title, Kobe was Finals MVP, LeBron was MVP, Tyreke Evans was Rookie of the Year, Scott Brooks was Coach of the Year, Aaron Brooks won the Most Improved Player award, and Jamal Crawford was the sixth man of the year. The only category where I went way wrong was with the Defensive Player of the Year, as I underestimated eventual winner Dwight Howard by handing out my honours to Gerald Wallace instead. Of course, I also predicted that the Cavs will be in the NBA Finals. Ya, that was way, way, before a certain
Game 5
.
But again, I credit the late submission of my predictions for my accuracy. This year is going to be way, way tougher. LeBron's Decision and the Car-MeloDrama have raised a lot of questions about this season. Can James become MVP again, now that he shares his responsibilities with Dwyane Wade. Are Heat contenders? Are the Lakers worse. Should the Celtics never be doubted again. Why are the Spurs playing so well all of a sudden? Did anyone expect Derrick Rose and Amare Stoudemire to be THIS good? What about Magic/Mavericks/Thunder. And how will the end of the Carmelo Anthony saga (the end for this year = trade deadline) influence any predictions I make now?
So, very gingerly, I move on to my
bold
predictions for the 2010-11 season...
Most Valuable Player (MVP): Derrick Rose
This year might be the most closely contested and most widely debated MVP race in my many years of NBA watching. There are at least 11 strong candidates, each of whom can put up a legitimate argument for the coveted award. And since it's such a close debate, I think they all deserve a shout-out.
Amar'e Stoudemire: The league's second-highest scorer. And he has transformed the lowly Knicks into a solid playoff team this season.
LeBron James: The stats leader in one of the best teams in the league. Heat have gone from being first-round fodder to potential title-challengers since his and Bosh's addition.
Dwyane Wade: LeBron's SuperTwin. James and Wade are Batman and Batman. Wade is playing equally well as LeBron is, which is why I argued that either
both could be co-MVPs
, or neither of them will get it.
Kobe Bryant: Still one of the best in the league in still one of the best teams in the league. Kobe and the Lakers have been ageless this season.
Dwight Howard: Never to be underestimated, as the only true mega-star in a great Magic team. The league's best post defender added a potent offensive arsenal, too.
Kevin Durant: His chances are hurt a bit, simply because of the rising play of Westbrook. But he's NBA's top scorer and Thunder are much better than last season.
Dirk Nowitzki: The Mavs were the NBA's second best team all of this season, until he got injured and they lost six in a row. That's a good argument for a second MVP award.
Manu Ginobili: A Spur HAS to be here. Spurs are terrific this season, currently on an NBA-best 36-6 record. Ginobili is the best player on the best team.
Rajon Rondo: A Celtic HAS to be here too. Too many options in Boston, but Rondo is the best/most consistent of them all.
Chris Paul: Has carried a very average Hornets team on his frail shoulders... They are still in the playoff hunt.
As you can see... A tough, tough challenge to predict this. But my vote goes to Derrick Rose. Rose has excelled in all the categories that the above players have done well in, and then some. He is averaging 24 and 8, leading the Bulls to third place in the East, and they have shown again and again the cojones to beat the league's best. Despite other teams' ups and downs (or in the case of Celtics/Spurs, their balanced ups), Bulls, led by Rose have done well when they have been without Carlos Boozer or without Joakim Noah.
That is why I vote Derrick Rose, 2010-11 NBA MVP.
Rookie of the Year: Blake Griffin
From the toughest decision to the easiest one. Blake is not only the best rookie this year, he may be having the best rookie season for over a decade. Averaging 22.5 and 12.8, scoring regular 40 point games, posterising any and everyone that dare mess with him under the basket, and most importantly, making the Clippers (who have won 10 of 13) into a REAL threat. No debate here. John Wall and Landry Fields are having good years too, but they aren't good enough to stand in Blake's shadow.
Defensive Player of the Year: Dwight Howard
No one candidate stands head and shoulders above anyone, so I'm going with the safe choice here. Howard is the most consistent good defender in the league, and I think he will edge out Kevin Garnett, LeBron, Wade, Andrew Bogut, Kobe, and Josh Smith for this award.
Most Improved Player: Kevin Love
Roy Hibbert of the Pacers looked like he was going to run away with this award earlier in the season, but Love has really made a case for himself halfway into the year. After averaging 14 points and 11 rebounds a game last season, he has picked his averages up to 21.5 ppg and 15.7 rpg, and he is the league's leading rebounder. Now THAT'S improvement.
But there are a lot of legit contenders for Love for this award too: Derrick Rose, if he wasn't an MVP candidate, Michael Beasley, if he wasn't Love's LESSER teammate, Russell Westbrook, Eric Gordon, Raymond Felton, Wilson Chandler, Jrue Holiday, and Wesley Matthews are all in with a shout.
6th Man of the Year: Glen Davis
That's right. Big Baby is finally going to get some respect coming his way. With Perkins out injured, KG and Shaq being missing a bunch of games, Jermaine O'Neal barely playing, it's been Davis who has had to carry the big man load often for the Celtics. And he has done if off the bench most of the time. He has nearly doubled his output this season, now averaging 12.6 ppg and 5.3 rpg.
Tyrus Thomas, last year's winner Jamal Crawford and perennial 6th man favourite Jason Terry have done well off the bench, too.
Coach of the Year: Tom Thibodeau
Thibo (that's what I'm going to call him from now onwards to make life simpler for all) deserves to share the credit with Derrick Rose for Chicago's improved play. The former apprentice of Boston's Doc Rivers, Thibo has made this team into a defensive powerhouse, and has perfectly fitted in the new players that have joined the side. Erik Spoelstra (why do coaches have such hard to spell names?), Gregg Popovich, Jerry Sloan (he HAS to win one day, right? Right?) deserve to be mentioned in this race, too.
All NBA Team
G: Derrick Rose
G: Dwyane Wade
F: LeBron James
F: Amar'e Stoudemire
C: Dwight Howard
This list pretty much picked itself. And damn, it's a hell of a list.
All Rookie Team
G: John Wall
G: Landry Fields
F: Ed Davis
F: Blake Griffin
C: DeMarcus Cousins
I had a hard time finding a second forward for this team, Ed Davis will have to do. And I'm disappointed that Derrick Favors/Evan Turner haven't showed up yet.
Now, on to what I feel will be the
Playoff Picture
come May:
East
1. Heat
2. Celtics
3. Bulls
4. Magic
5. Hawks
6. Knicks
7. Bucks
8. 76ers
Since I'm Nostradamus (or Hoops-a-Damus) this is what's going to happen: Heat will chop open and each the 76ers, Celtics will molest the Bucks, Bulls and Knicks will be closer than most think, but Bulls will win in seven, and Hawks will revisit their nightmare, and just like last year, have no answer for the Magic.
In the second round, I expect Heat and Magic to play out an entertaining six or seven game series, but Heat's individual brilliance will take them past. Celtics should have little trouble beating the Bulls, despite Thibo and Doc River's similar ways, Celtics are saving themselves for this moment.
Conference Finals: Heat vs Celtics. THIS WILL BE EPIC. If there is anyone that knows how to thwart superstars, its Boston. If there are any superstars that know how to thwart defenses, it's Wade and James. It will take seven games, but
Boston Celtics
will be the last one's standing from the East.
West
1. Spurs
2. Lakers
3. Mavericks
4. Jazz
5. Thunder
6. Nuggets
7. Suns
8. Hornets
I see a couple of potential upsets here. If Melo stays in Denver (A HUGE IF), the Nuggets will be dangerous. But they will face a deeper Maverick squad, who should beat them in a close series. Thunder I say will upset the Jazz and move into the second round. Spurs over Hornets, Lakers over Suns, easily.
Spurs will be given a shock by Thunder's youth, but they will use their wily old experience to get past. Lakers will finally come to their own in the Mavs series and beat them in six.
Conference Finals: Spurs vs Lakers, just like the old times. Except now, the Spurs would've gotten worse as the playoffs progress, and Lakers, better. I expect Kobe and
Los Angeles Lakers
to play their best basketball of the year in this series and advance to the NBA Finals.
NBA Finals: Celtics vs Lakers
Call it an easy, cop-out choice, but hey, I say it as I foresee it! LA's fourth straight finals appearance, Celtics third in four years. A repeat of 2010 and 2008. This one will be to decide who is truly the team of this era.
I think a lot of trends from last year's finals will repeat, but this time around, I feel the Celtics, despite their age, will come out on top. They have too much depth, toughness, defensive tenacity, and consistency to go down to LA again. I say
Celtics win the NBA Finals in six games
.
And once again, it'll be done through team-work. But there has to be an MVP, and for his improved playoff performance (like last year), the
Finals MVP
will be
Rajon Rondo
.
Let me reverse roles here and turn it over to you guys - what are your predictions for MVP, DPOY, ROY, Champions, etc this year? How much do you agree/disagree with me?