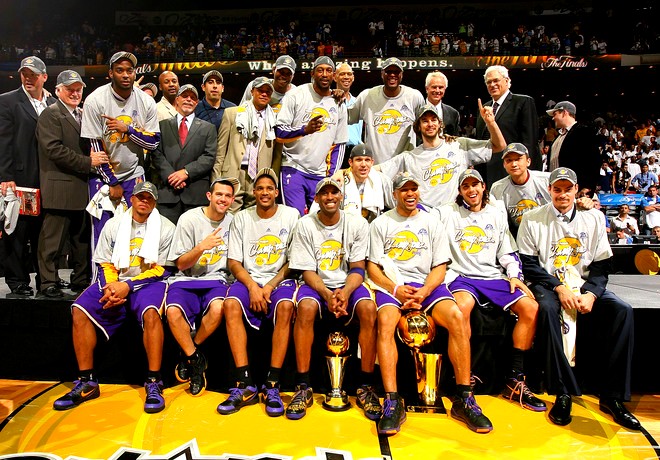 Now, with the
trade deadline
behind us and the rosters for the NBA teams more or less finalized, I've decided that it's a good time to make my end-of-season predictions for the NBA. These include my predictions for end-of-season awards (MVP, ROY, etc), the All-NBA team, and who will be the last team standing as 2010 NBA Champions...
There are a few more months to go in the regular season, and, in any other year, the favourites for the playoffs and the championship would've been crystal clear. This season, though, is a lot more unpredictable. There are lot more 'favourites' for the title, and the playoff race, especially in the West, looks like heading towards a wild finish.
On to my
bold
predictions then. Let me know if you have any views, disagreements or wagers (I'll make them as long as they involve KFC or Mutton Fried Momos.
Most Valuable Player (MVP)
:
LeBron James
. There have been contenders all season. Kobe was the favourite early on, Steve Nash made some noise of his own, D-Wade is always in contention, Dirk has been playing better than he did when he won MVP, and Kevin Durant has been playing out of his friggin MIND these days. And of course, the definition of 'Most Valuable' too changes from person to person. But whatever you're reasoning - best player on best team, best statistical averages, or a balance of the two - this year, there is no debate. LBJ has been on a whole different level.
I'm a bigger fan of all those other players mentioned above, but LeBron won't be denied. Although they've lost three straight, the Cavs will end up with the best or second best record in the league. LeBron is averaging 30.0 ppg (1st in league), 7.1 rpg, and 8.5 apg (6th in the league). Those numbers make me sick.
And then he went along and had a 43, 13, and 15 night in the loss to the Nuggets. 43, 13, and 15. I think I just threw up in my mouth.
Rookie of the Year
:
Tyreke Evans
. I'm really happy about this one. Since
my main man Ricky Rubio
decided to defer his journey to the NBA, Evans became my favourite for this award. Brandon Jennings' hot start (capped by that incredible 55-point game) threatened my early season prediction, but it seems that Evans' consistent play (20.2 ppg, 4.9 rpg, 5.2 apg) should see him comfortably win this award. If only the Kings can now start winning some basketball games again...
You might have already read about this, but if Evans finishes the season with a 20, 5, and 5 average, he would only be the fourth rookie to achieve it. The other three? Some players called Oscar Robertson, Michael Jordan, and LeBron James.
Most Improved Player
:
Aaron Brooks
. This is an especially contentious award, because everyone has a different opinion of what they would call
most improved
. Other contenders in my mind were Brooks' former teammate Carl Landry (same kind of improvement, but he wasn't a team leader like Brooks, and he got traded), Rajon Rondo (close call), Marc Gasol, Gerald "Crash" Wallace, Trevor Ariza, JJ Hickson, Josh Smith, and Kevin Durant (who went from ROY to elite, to superstar in 3 seasons).
But I choose Brooks, who improved his scoring averages from 11.2 to 19.4 this season and assists from 3.0 to 5.0. He is now playing major minutes at the point and leading a hard-working, overachieving team from the front. Rockets lost their three best players in Yao (to injuries), Artest (to Lakers) and McGrady (to injuries and Knicks) and they're
still
relevant. Tell me the last time
that
has happened?
Sixth Man Award
:
Jamal Crawford
. Carl Landry was actually my front-runner for this award, until he got traded to the Kings, for whom he will become a regular starter and thus not really be eligible. Crawford has helped strengthen the Hawk bench, and the Hawks are now amongst the best teams in the East. A senseless jacker in the past (mostly with my Knicks), Crawford is now averaging an efficient 17.6 ppg as a 6th man.
Other contenders for this award are Jason Terry, Al Harrington, and Manu Ginobili.
Defensive Player of the Year
:
Gerald Wallace
. This is one of my favourite categories: "Crash", as he's called, is the best defender in the league's second-best defensive team, the Bobcats (ya, I bet you can't believe that!) - only the Celtics are better. Wallace is a versatile player and a hound on the defensive end. Defense is terribly hard to quantify through statistics, so it is a combination of things that would help voters in judging the 'best' defender. My main man Ron Ron and Dwight Howard are contenders too, but this is Wallace's award to lose.
Coach of the Year
:
Scott Brooks
of the Oklahama City Thunder. This is another difficult category, but from all the contenders, three stood out: Brooks, Rick Adelman (Rockets), and Lionel Hollins (Memphis Grizzlies). I'm gonna hand this award to Brooks though: the young Thunder team won only 23 games last season, and the same squad of players have improved along with Brooks' guidance so much this season that the Thunder have already won 32 games, and are on their way to a 48 win season.
That
is improvement.
All NBA Team
:
G: Steve Nash
G: Kobe Bryant
F: LeBron James
F: Kevin Durant
C: Dwight Howard
Notable emissions: Nowitzki, Bosh, Wade, Duncan, Deron Williams, Chris Paul, Carmelo Anthony.
All Rookie Team
:
G: Brandon Jennings
G: Tyreke Evans
F: Omri Casspi
F: DeJuan Blair
C: David Anderson
Other rookies have played really well, Anderson is only there because Centers are a dying breed.
Ok, now that the invidual predictions are out of the way, this is what I predict the
Playoff Picture
will look like, for the East and the West.
East
(1) Cavaliers
(2) Celtics
(3) Magic
(4) Hawks
(5) Raptors
(6) Heat
(7) Bulls
(8) Bobcats
So in the first round, I predict that the Cavs will get past the Bobcats, the Celtics play a rematch of
last year's thrilling first round series against the Bulls
, and will win it again, the Magic will beat the Heat, and my first upset prediction: Raptors over Hawks.
2nd round: Cavs will play and beat the Raptors, and Celtics will get by the Magic.
Conference Finals: Cavs over Celtics - but I say it goes seven games, making the
Cleveland Cavaliers
the Eastern Conference Champs.
West
(1) Lakers
(2) Nuggets
(3) Mavericks
(4) Suns
(5) Jazz
(6) Thunder
(7) Blazers
(8) Spurs
I know, putting Spurs EIGHTH is sort of blasphemous towards the last decade's best team, but that's just how competitive the West is. There will be three teams in the West with winning records that
won't
make the playoffs: Hornets, Rockets, and Grizzlies.
So, that sets up an exciting Lakers vs. Spurs first round series, which I say the Lakers will take in six or seven difficult games, and thus preparing them for more battles later on. Nuggets will get past the Blazers, Mavericks will beat Thunder, and Suns will beat the Jazz - no upsets here.
Second round: Lakers over Suns and Nuggets over Mavericks, setting up a repeat of last year's conference finals...
... Which I say the
Los Angeles Lakers
will win again, and go into the finals as Western Conference Champs.
NBA Finals
:
Cleveland Cavaliers
vs.
Los Angeles Lakers
.
So the Finals will be an exciting battle between Kobe/Gasol/Bynum/Artest/Odom against LeBron/Shaq/Jamison/Mo Williams/etc... Mamba vs. LeBron and Shaq! Artest (the best defender against a LeBron) against LeBron! Gasol and Bynum vs. Jamison and Shaq! There's a lot going on here...
But... I say the
Lakers win and repeat as NBA champs
.
Finals MVP
:
Kobe Bryant
... Mamba will win the series and the award over LeBron, the regular season MVP.
Now, let the season proceed: I will compare my predictions to the final results at the end of June. Feel free to add your own predictions for comparison/debate. It's looking like an exciting few months in the NBA, before the great free agent class of the
Summer of 2010
offer us an intriguing offseason.