Despite the fact that the NBA off-season was one of the most intriguing in recent memory, it has still seemed long, barren, and never-ending. Mid-June till the end of October? That's a long time, especially for someone as impatient and NBA-spoilt as I am. So what if the off-season chatter included the cementing of Kobe Bryant's legacy, the NBA draft, the LeBron James Decision and the coup over at Miami, the coming of Dwight Howard, Pau Gasol, and the NBA trophy to India, Carmelo Anthony's indecisiveness, and a dozen other plotlines? I still want more!
But here we are now. Less than a month away from the beginning of the 2010-11 NBA season (about 28 days, 7 hours according to the countdown on
nba.com
). As a matter of fact, the totally inconsequential yet still mildly interesting NBA Pre-Season is set to begin October 3, when my New York Knicks head to Italy to play Olimpia Milano.
Yes, in case you were wondering, I am more excited about a meaningless pre-season game between a weak NBA team and a random European squad than I am for the other thing that will be starting in my own backyard back home in Delhi. I can't remember what it is - people keep on calling it some 'Games' but all I hear about is dirty toilets, expensive treadmills, and infectious mosquitoes.
Anyways, back to the point - Yes, the season is creeping up - and I have many (many) things to get off my chest. So here are the 10 most important open questions I have about the upcoming season. Anyone got the answers?
1. What can we expect from the John Wall - Gilbert Arenas backcourt in Washington?
Believe me, this question is a lot more important than the layman may believe it to be.
First you have Gilbert
"Hibachi"
Arenas, the NBA's former most intriguing and interesting player who's also gifted with a crate-full of talent and an even bigger crate of crazy. Now, you take this crazy-talented player, suspend him for most of a season for bringing his guns to the arena, and then you bring him back amidst trade rumours. He returns
looking serious and motivated
and he has a new beard, and he's boasting the same kind of motivation that propelled him to superstardom earlier in his career.
Then you pair this player along with the first pick of the NBA draft, John Wall, a player who plays essentially the same position as Arenas. A player who is being already lauded for his explosiveness and his other-worldly talents, someone who is already a favourite for being the Rookie of the Year and a future superstar.
And then you put both of them together. Boom!
Where the hell will Carmelo Anthony and Chris Paul start (and end) the season?
Carmelo Anthony and Chris Paul have seen their pals LeBron, Wade, and Bosh take the party and the hype down to Miami, making the greatest three-some since the Musketeers. Anthony, whose contract expires at the end of this season, will reportedly not re-sign with the Nuggets. Nuggets have been trying feverishly to get some return for his talents now and not get short-changed like the Cavs or the Raptors did. The
situation is complicated
: The Nuggets want Anthony to stay, but can't keep him; Anthony wants to go to the Knicks, who can't have him; The Nets want Anthony, but he doesn't want to go there. Add a couple of mean father-in-laws and some song-and-dance routines around the park and you have yourself an NBA Bollywood blockbuster.
Oh, ya, and Chris Paul, too, who complained a desire to leave earlier to his team, but then changed his time and was suddenly
excited about the Hornets again
. Yeah, right.
3. Which young team will get over the hump?
I already know which young teams I'm thinking about when I ask myself this question.
Over in the East you have the Bucks, an exciting young squad that showed considerable improvement last season, and were one win away from making it to the second round of the playoffs. The Bucks are led by talented big man Andrew Bogut (who actually missed the playoffs) and are supported by Brandon Jennings, one of the most potent young men in the league. Along with the likes of Carlos Delfino and Ersan Ilyasova (both who performed wonderfully at the FIBA World Championships), Corey Maggette, John Salmons, and the potential return of sharp-shooter Michael Redd, the Bucks have a good team which could turn some heads this year.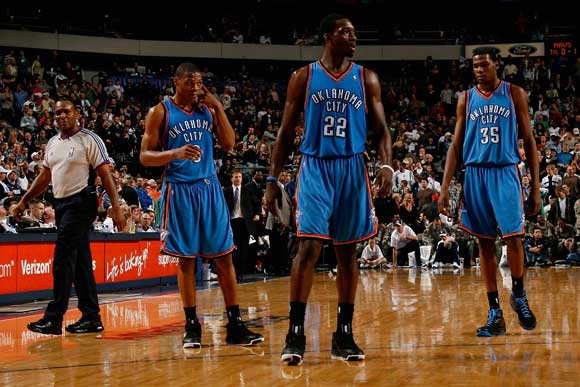 And then there is everybody's new "second-favourite" team - the Oklahama City Thunder. The Thunder play an exciting brand of basketball, full of tough defence, sprints down the court, and sharp-shooting. They haven't really made much changes in the off-season, but a core of Kevin Durant, Russell Westbrook, Jeff Green, Nenad Kristic, James Harden, and Thabo Sefolosha, the Thunder will continue to be trouble. Don't be surprised if they emerge as the Lakers' biggest challengers to the Western Conference crown.
4. Can Yao Ming dominate again?
I feel sad for Yao Ming. He was once the man solely responsible for making China the basketball-mad crazy it is today (and concurrently, giving hope to India that the same can happen back home. Today, he is trying to recover from a career-threatening injury, and will only feature in
limited minutes
this season. That's okay, because Limited Yao is still better than No Yao. Here's hoping that the talented giant can dominate the game again.
5. Will anyone watch a Cleveland Cavaliers game?
So, one player left. Wasn't this one of the most popular teams in the league over the last two or three or seven years? What, no more Cleveland? Where have all the bandwagon fans gone?
On second thought, there is one game which will make the Cavs temporarily relevant again. You know, when a
certain someone returns to his old Arena
to be attacked by booing crowds,
burning jerseys
, and
comically-angry fonts
.
6. Which young star will finally live up to potential - Greg Oden, Michael Beasley, or Blake Griffin?
It's frustrating to watch the careers of these three players. Especially the first two.
Greg Oden (first pick of 2007 draft), Michael Beasley (second pick 2008 draft) and Blake Griffin (first pick 2009 draft) all came into the league with great expectations in quickly faded into relative obscurity in different ways.
Oden, who I shudder to call young, has had an injury-riddled career and has thus never been able to play and produce as much as expected. He still has "no timeline" for his return.
Beasley had a great opportunity to blossom next to Dwyane Wade in Miami, and he never did. Now, he has been shipped away to have a fresh start in Minnesota.
And Griffin, who is still technically a rookie since he missed all of last season, is finally healthy to take the court and dispel the
Clipper Curse
. Or flop and totally confirm it.
7. Will Shaq help an ageing Celtic squad achieve one last hurrah?
I love the way the Celtics have played their basketball ever since the epic Kevin Garnett trade three years ago. They won a championship that year, and two years later, were one game away from winning another one. Most importantly, they did it as a team, playing good defence and by sharing the ball.
But they are oh so old. Paul Pierce (33), Kevin Garnett (34), and Ray Allen (35) can only take them so far. They needed the young legs of Rajon Rondo and the defensive intensity of Kendrick Perkins last year.
This year, they hire a couple of more older guys, a couple of O'Neals, to help them out. Jermaine O' Neal (32) and the Big Leprachaun aka Shaquille O'Neal (38) are in Beantown. Can Shaq really gel with this Celtic squad? Will he make a difference? Will he completely destroy team chemistry? Or will he suddenly resurrect himself in the special atmosphere around the Celtics squad and make an important contribution, especially in the playoffs? I can't wait to find out.
8. Will Kevin Durant become the best player in the league?
I have little doubt about this. All the right signs are pointing in the way, and if I was a betting man, I would place my bets on Durant being the league MVP by the end of the season. Here is why:
- He was the leading scorer in the league last season, the youngest to be so (21), and he will only improve.
- He was the MVP of the FIBA World Championships.
- He is the best player in the Thunder, and will have ample opportunity to prove himself.
- His main competitors are either too old to dominate the regular season any more (Kobe Bryant), have gotten together to share their load (LeBron and Wade) or are a tad bit too inconsistent (Anthony and Dwight Howard).
- The Media likes him.
9. Will the Heat live up to the hype?
Public enemy told me not to believe it, but when you get LeBron James, Dwyane Wade, and Chris Bosh on the same squad, how can I not? Jeff van Gundy claims that this team will the Bulls' 72-10 season record, adding, "They will never lose two games in a row this year." Phil Jackson told everyone to calm down, saying that teamwork wins, not talent. Either way, this is the big story in the NBA, and all eyes will be on Miami to pull off a historically good season or a shockingly average one.
10. Will the Lakers three-peat again?
Lost in the midst of the Miami Hype was the fact that the reigning champs are the Los Angeles Lakers, who are still here, still consistent, still the team to beat. Lakers have won two in a row, and their core of Coach Phil Jackson, Kobe Bryant, Pau Gasol, Lamar Odom, Ron Artest, and Andrew Bynum will return for another shot at the title. It might be Jackson's last season, and the man who has won an incredible THREE THREE-PEATS (wowaweewah!) will be looking for his fourth and his 12th ring as coach.
Not much I can say about Kobe's drive to win that hasn't already been said. No matter how he starts, you know he'll be there at the end, taking the most crucial shots in the most crucial games.
And India-visitor Pau Gasol, who has had a rested summer, will be back to continue building up his legacy.
Lakers have made a couple of important additions too - Steve Black, Matt Barnes, and Theo Ratliff have beefed up their bench.
This is still the best team in the league. Will they win again?