It's 2014, and we live in a world where the difference between a historical moment and a forgettable one can be made in under 140 characters.
In case you haven't been paying attention, the
NBA Draft was conducted yesterday
, a selection to bring in the top amateur and international talents into the world's finest basketball league. After 60 selections over two rounds, one big name went uncalled. That name was of Sim Bhullar. 7-foot-5 by height. Canadian by nationality. New Mexico State by foregone alma mater. And most importantly for our discussion here, Indian by race.
Bhullar was the closest that an Indian-origin basketball player had yet come to be drafted into the NBA, and he missed his chance...
... Until a few hours ago, this happened:
New Mexico State's massive center Sim Bhullar will sign with the Kings, per agent Mike George.
— David Aldridge (@daldridgetnt) June 27, 2014
Through a simple tweet,
TNT's NBA correspondent David Aldridge informed the world (via Bhullar's agent) that the Sacramento Kings are set to sign Sim Bhullar. Since then, there have been no further confirmations or denials of this news, but there certainly has been
a whole lotta reaction to it.
For the first time, a player of Indian-origin had been signed by an NBA team. It may not be the 'Yao Ming' moment for the diaspora of South Asians worldwide, but it's certainly a major first step into breaking one of the last racial barriers in the NBA.
The fact that it was the Kings who took the plunge with the massive center is no surprise at all. Around this time last year, the Sacramento Kings became the first NBA team to have a majority owner that was born in India: Vivek Ranadive. While the team itself hasn't made any major improvements on court, Ranadive's vision and off the court efforts have transformed the culture around the franchise. Ranadive has already placed importance in reaching out to the untapped market of basketball fans in India and has hopes to turn the Kings into India's favourite team in the near future. It seemed obvious that the team with most interest in reaching out to Indians will be the team that reaches out to the one Indian with (fringe) NBA potential. And now, the obvious seems to have happened.
Bhullar is still far away from actually securing a 'real' NBA contract and suiting up for a team at this point. As a first step, he'll be playing for the Kings
in their Summer League team
in Las Vegas next month, from July 11-21. Bhullar will have to prove that he belongs among other young rising prospects here. For the past few years, despite his successes with New Mexico State University (NMSU), he was questioned for his motor on court and doubted if he could truly handle the pace of the game at the NBA level. The Summer League will be a shade of what he can expect.
From there on, if Bhullar doesn't make to the final cut of the Kings' roster straight away, he'll probably hope to get a chance with a few teams in the NBA's D-League, including the Reno Bighorns, who are the single-affiliate D-League team of the Kings. If he is able to develop his game from there, he could have another chance of earning an NBA call-up.
It is also my fantasy/Christmas wish/Diwali wish to see Bhullar play alongside DeMarcus Cousins one day to form the most lovable big man tandem of all time. #BoogieBhangra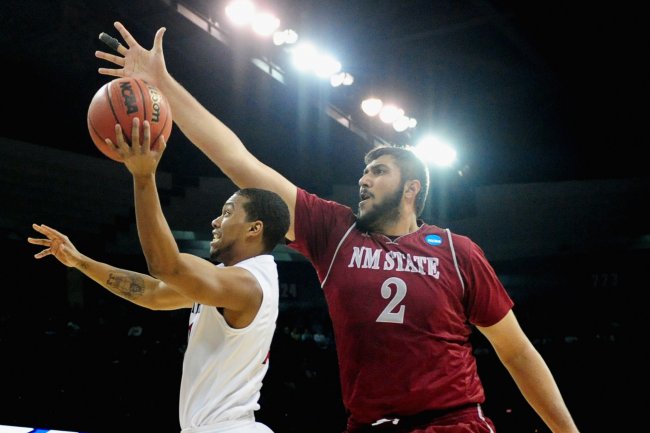 There is of course, eventually, the overseas option as well. But, as former NMSU state guard (and Euro-ball experienced) Billy Keys suggested
to the Las Cruces Sun-News,
the wear and tear of travel in Europe and elsewhere abroad could be detrimental to a big man like Bhullar; persisting to play in the US/NBA would really be the best option.
Worst-case scenario? Bhullar was
drafted by the Harlem Globetrotters
two days before the NBA draft, along with American Football player Johnny Manziel,
real
football player Landon Donovan, and a
guy who holds the Guinness World record
for the longest basketball shot. So there's that.
For now, let's remain optimistic that it'll be a 'simmering summer' for Sim in the Summer League. Let's go our various brown/desi/Indian gods and good luck charms and do what we have to do to hope that the big guy gets his chance with the NBA. Let's place good luck charms
with lemons and chillies
outside the Sleep Train Arena and hope that Bhullar stays clear of too much
ghee
in his diet. Fingers crossed and all that - an Indian guy (by way of Canada) is nearly in the NBA. The big day of desi-hoops reckoning cometh!