They live in different states and are two amongst thousands and thousands of high-school basketball stars in the USA, but Sophia Bhasin of Cajon High School (San Bernardino, California) and Shilpa Tummala of St. Mary's High School (Phoenix, Arizona) have a genealogical keeping them parallel: they are both of Indian-origin. The two young players have been making waves in the High-School girls basketball circuit in America and have both earned impressive Division I basketball scholarships for college.
Bhasin was born in Punjab, India, and moved to the US when she was 8 years old. She didn't start playing basketball until the 7th grade, but has since developed into a star at Cajun in California. The 5-foot-7 guard has been an important contributor to a side with a 32-3 record that finished fourth in the state of California. She has been a scoring and triple-double threat for her side, averaging 25.2 points, 11.8 rebounds, 8.8 assists, and 4.7 steals per game for her team.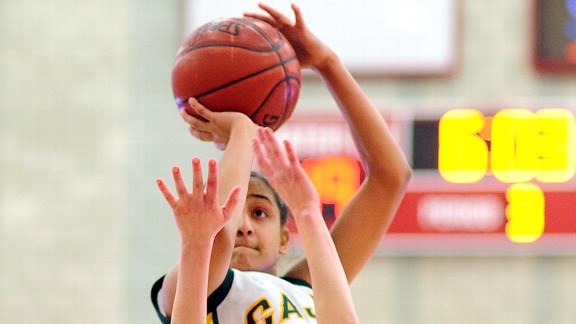 Then there's 5-11 Tummala, who was born in Phoenix but her parents moved to America from Andhra Pradesh in India. Tummala is a great inside-outside threat who has worked hard for St. Mary's in Arizona to now find herself ranked at #68 by ESPN HoopGurlz in girls basketball across the US.
Both these young girls have broken traditional barriers set by the Indian cultural upbringing as well as expectations of basketball in the US, where Indian-origin players rarely make a mark. As a reward, both have committed to scholarships to Division-I basketball programmes at major colleges in the US: Sophia Bhasin will be attending Long Island University in New York while Shilpa Tummala has committed to attend the prestigious Harvard University in Massachusetts.
Glenn Nelson of ESPN
wrote a special feature on the two Indian-origin girls
. Here are some excerpts:
"Honestly, it wasn't very common for an Indian girl to be so actively involved in sports," Tummala said via email. "The fact that I played basketball competitively and devoted so much of my time to basketball shocked many people in my community."

"I do have family back in India," Tummala said. "And yes, most of them know that I am going to play basketball in college. They seem to enjoy the fact that I am going to Harvard next year to play basketball. But, I believe, the 'Harvard' part is what really excites them as they don't know much about my basketball career in America."
Both Tummala and Bhasin have fathers who became active supporters of their basketball pursuits. Bhasin's twin brother, Ranjit, was who dragged her into the sport. She became a quick study, mastering for example the advanced skill of creating jump shots off the dribble, an attribute that is the foundation of her 25.2-point scoring average this season.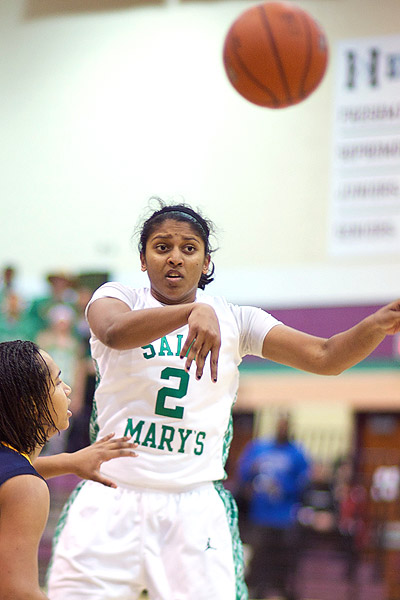 Bhasin is a dual citizen of both India and the USA. In a story published for San Bernandino's 'The Sun', Bhasin said that she would be open to representing either country. Let's just hope she chooses us!
Here are excerpts from
'The Sun' article on Sophia Bhasin
, written by Pete Marshall:
"It wasn't that hard (moving to the U.S.) because I had been here before and everyone has to learn English in India," Bhasin said.

Bhasin, who now has dual citizenship in India and the U.S., knows she is part of two worlds that don't often cross paths. Not only is she from India but she is a Sikh and attends temple on Sundays in Riverside.
"I don't really consider myself a pioneer," she said. "But I'll always be part of the India community. All of my dad's friends come out and my friends from temple come out and watch me play."
Her father, V.P., who owns businesses in San Bernardino and Upland, was a cricket player as a youth before his career was cut short by a knee injury. He not only is at games but frequently shows up to watch Cajon practice.
"I really wanted to encourage her to play basketball, which she really liked," V.P. said in a phone interview.

"The women's basketball team from India is not very good," V.P. said. "They didn't even qualify for the Olympics (this year). I'd love to see Sophie play for India."
"I'd love to be able to play for India or America," she said. "I'd be proud of myself as a dual citizen."
Wishing both these girls the best of luck in hoops... Even if they don't contribute to basketball in India, I'll be proud to see them succeed as Indians abroad!