Which was one of the most popular teams in the league for the past half a decade? Which team had the best regular season record - by a good margin - for the last two seasons? Which team had fans all across the world wearing their jerseys, watching their games televised week after week live? The team that was considered to be title contenders? Which team was the first to 40 wins last season?
You might know the answer to that. But how about this, here are some more clues: Which team, after losing a couple of players in the offseason, became the first to
lose
40 games this season? Which team holds the worst record in the league so far this season, the only one to not reach to double digit victories? It's the same team that is probably the most ignored and unfancied side this year. It's the team, that almost overnight (following a certain
'Decision' on July 8, 2010
), lost all of its fanbase.
I'm speaking, of course, of the Cleveland Cavaliers. After a loss to Portland last night, the Cavs have now entered the annals of NBA history, but not in the way they would have liked. The Cavs have now lost 24 straight games, the highest losing streak ever. They are yet to win in 2011, have lost 34 of their last 35 games, and after an average start to the season, now sit at a disgusting 8-43 record.
NBA fans know the back story well by now. Cleveland's own son and number one pick, the darling of the basketball world, and the two-time MVP, LeBron James transformed the Cavs into a force to be reckoned with for the better part of the last decade. And then, with one swift move in the offseason, they were left headless without their best player. James joined the Heat, and less significantly, he was followed there by the Cavs' highest-tenured player, Zydrunas Ilgauskas. Shaquille O'Neal and Delonte West left for greener pastures, literally, to the Celtics.
Everyone expected the Cavs to fall, but did we really think that the fall would've been this hard? Did anyone really think that they would become
this
bad,
this
soon? From winning 66 and 61 games the last two seasons, here is a team that is finding it difficult to win 10 games this time around. Is
this
how bad LeBron's supporting cast was? LeBron was surrounded by the likes of Shaq, Ilgauskas, Mo Williams, Antawn Jamison, Anderson Varejao, Leon Powe, JJ Hickson, Daniel Gibson, Jamario Moon, Anthony Parker, and Jawad Williams last season. All of those players, barring Shaq and Ilgauskas, are still there.
Apart from contending LeBron's, Shaq's, and Big Z's loss, the Cavs lost Varejao to a season-long injury, and Mo Williams has been out injured, too. There squad is now full of nobodies like Christian Eyenga, Manny Harris, and Alonzo Gee.
And still, we never expected them to be
this
bad.
But honestly, I don't really care about their struggles, personally. I never like the Cavalier franchise, before LeBron joined them, didn't like them during LeBron's tenure, and sure as hell don't care about them too much since he has left.
What infuriates me, however, that LeBron's move away from the Cavs has exposed my least-favourite facet of NBA fans: bandwagonning. How could a team that was loved so ubiquitously be ignored so much simply because a couple of players left? Because basketball has become that kind of a game. Fans focus on stars and not on teams. A year ago, I couldn't walk into a single major adidas store in India without spotting Cavs merchandise next to the usual Celtics/Lakers garb. Now? It's as if the Cavs never existed.
Former Cavs fans: I'm calling out to you specifically. Where are you now? How could you follow a team night in and night out for so many years and them completely forget about them overnight, conveniently taking your support to the South Beach like LeBron to support the Heat? I
know
the answer to these questions, but it still saddens me.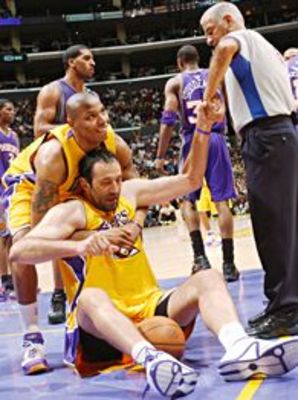 Looking at NBA fans in India now, a majority support either Celtics or the Lakers. But my question is, would you have cared about, say, the 96-97 Celtics that featured a starting lineup of Brett Szabo, Rick Fox, David Wesley, Antoine Walker, and Eric Williams? What about the 93-94 Lakers, with the excellent starting five of Nick Van Exel, Tony Smith, Vlade Divac, Elden Campbell, and George Lynch? I'm expecting only a few to answer an honest 'yes', and it's understandable. People don't like shit teams. Nobody notices you until you perform well. Or you dunk all over the universe like Blake Griffin.
And this is what separates NBA fans from say, football fans. From my experience, football fans who begin to seriously follow a team then follow them all the way, through thick and thin. Liverpool fans will still be Liverpool fans, whether they finish 2nd in the Premiership like two years ago or near the relegation zone, like they have threatened to this year.
There is a certain joy in standing up for your squad even though they might be going through a shit-storm. I've been a tragic New York Knicks fan ever since the Allan Houstan-Latrell Sprewell-Marcus Camby inspired squad hustled hard as the underdog and made it all the way to the Final in 1999. It has basically been downhill from there, and although the Knicks haven't been the league's
worst
team all those years, they have certainly been the league's biggest laughing stock. It was difficult to wake up every day and see an 'L' next to a Knick box score. And yes, they have improved this season a little, but there is still a long way to go before they achieve elite status.
I wish the Cavs' fans had stuck with them, too. 24 straight losses aren't easy to take. What's worse is the 24,000 fans who they've lost, too. Or perhaps, they shouldn't have gained these many fans because of one man in the first place, right?
Anyways, here's a heads-up to those looking to jump a bandwagon. The Knicks are
close to trading for Carmelo Anthony
, and thus making them more exciting/likeable. Become a fan now before everyone else finds out.