In less than 48 hours, the NBA is going to be officially injected with a boost of fresh blood - the NBA draft will be held at the Theatre in Madison Square Garden, New York, where NBA teams will pick amateur players from US college basketball and other eligible players, including international players. The
Washington Wizards won the lottery
, and thus the rights to make the draft's first pick.
With the help of many different sources, including
Draftexpress
,
SLAMOnline
,
Yahoo! Sports
, ESPN, and other sources, I've been able to draw my own picture and predict how the players will be picked on the evening of June 24th / the morning of June 25th, if you happen to be watching from IST.
So, without further ado, here is Hoopistani's Mock Draft 2010 of the top 14 (lottery) picks:
1. Washington Wizards - John Wall
: Wall was the favourite months before the lottery, during the lottery, after the lottery, today, and tomorrow. By far the most explosive player in this draft, Wall will immediately become one of the best young point guards in the league, adding competition to the likes of Chris Paul, Deron Williams, Derrick Rose, Rajon Rondo, Tyreke Evans, Brandon Jennings, etc. Move over Gilbert Arenas, it's gonna get Wall-E over in Washington!
2. Philadelphia 76ers - Evan Turner
: There has been some talk of the 76ers potentially ignoring Turner and picking a big man like Derrick Favors, but they should play it safe and pick the former
national player of the year
. He's bound to become the best answer to their woes since
The Answer
himself.
3. New Jersey Nets - Derrick Favors
: This is a draft class heavy on talented big men, and I feel Favors is the best one of them all. He will make a dangerous tandem in New Jersey with Brook Lopez.
4. Minnesota Timberwolves - Wesley Johnson
: Johnson's stock has increased a lot recently, and some even expecting him to go third. I feel the Timberwolves will be calling the services of this talented wingman.
5. Sacramento Kings - DeMarcus Cousins
: Cousins' attitude may have caused a drop in stock for him, but I feel any team will be dumb to let him fall outside the top 5.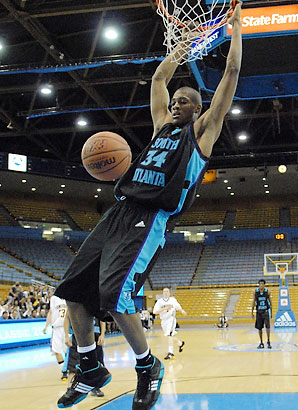 6. Golden State Warriors - Greg Monroe7. Detroit Pistons - Ed Davis8. Los Angeles Clippers - Al-Farouq Aminu9. Utah Jazz - Ekpe Udoh10. Indiana Pacers - Xavier Henry11. New Orleans Hornets - Luke Babbit12. Memphis Grizzlies - Cole Aldrich13. Toronto Raptors - Paul George14. Houston Rockets - Gordon Hayward