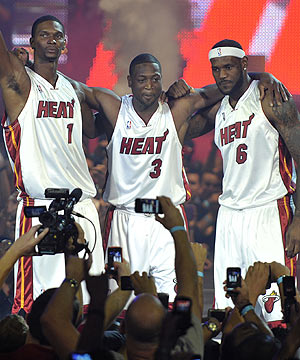 I have waiting patiently before finally sitting down to write this. Most of the memorable Free Agent class this summer, dubbed the legendary
'Summer of 2010'
have finally found their homes, some old and some new, and set up a whole host of excitement for the 2010-11 NBA season.
Unless a) You have been living under a giant rock, b) You are a monk somewhere in a cave in the Himalayas without internet access, c) You've been distracted too much by the FIFA World Cup and the sound of vuvuzelas has made sure you don't here any news ever again, or d) You're from Bangladesh, you've probably heard that Miami Heat ended up becoming the second-biggest story of the off-season after bringing back Dwyane Wade and signing LeBron James and Chris Bosh to their roster, to assemble perhaps one of the greatest trios to ever land on an NBA team together (on paper, at least). With 'King' James joining the crew, the new Miami roster was introduced as the
'Three Kings' of Miami
(or 'Miami Thrice'. Last I checked, only one of them, Wade, has any sort of a crown (or a ring), but hasn't had a whiff of it in four years.
The biggest story of the summer, of course, was of LeBron's shameless self-promotion and attempt to overshadow everything else in the basketball (and otherwise) world by flirting with at least six teams and finally making his cringe-worthy
'Decision'
through a one-hour special on ESPN on the 8th of July.
A lot more decisions were made, most of them not as important as LeBron's, but still crucial to the new shaping of the NBA geography. With the NBA Draft having introduced a new crop of future stars and the free agents beginning to settle into their new homes, here is my list of the winners, losers, and those still squatting in purgatory after the Summer of 2010.
The Miami Heat made the biggest splash, but nay, I feel the biggest winner were actually the
Chicago Bulls
. Yes, they lost out on LeBron, Wade, and Bosh (as did everyone but the Heat), but the Bulls chose to use their cap space to make a ton of smart moves and bolster their squad. Unlike the Heat, the Bulls already had a stable backbone led by former-best-PG-in-the-league Derrick Rose, Joakim Noah, Luol Deng, and talented youngster Taj Gibson. They've since added Carlos Boozer and Kyle Korver from the Jazz, and are on the verge of getting their hands on Magic sharp-shooter JJ Redick. The Bulls could end up with a formidable looking and balanced line-up of Rose, Redick, Deng, Boozer, Noah, with Korver, Gibson, etc off the bench. It's my early bold prediction that they will actually be the team to beat next season.
Now, when saying that, I'm assuming that the Bulls do better than all other teams that were ranked higher than them in the playoffs... Let's go through them one by one, shall we.
Cleveland Cavaliers
: Oh... Cleveland! The city which had the worst luck, found their saviour in the form of hometown boy LeBron in '03, and after seven rosy-yet-ultimately-unfruitful years, lost him to the Heat in the most unceremonious way possible: Live TV. If only LeBron had been gentler (and more prompt) about his decision, the city wouldn't be reacting in pain as it is now. For now though, I predict a historical downfall for the Cavs, in which they will return to their pre-2003 days as every LeBron fan jumps the bandwagon to become a Heat fan and no one cares about Cleveland any more. Shaq's gonna leave. Big Z has already joined LeBron in Miami. Their best players are going to be Mo Williams, Antawn Jamison, and LeBron's replacement, Kyle Lowry. Ouch.
Orlando Magic
: Magic get Chris Duhon and Quentin Richardson, will lose Redick. Dwight will be the same, so will Rashard Lewis, Vince Carter, and Jameer Nelson. Squatting on purgatory.
Atlanta Hawks
resigned Joe Johnson, but he's peaked. Josh Smith and Al Horford will improve, the Hawks won't. Purgatory.
It's hard to believe that last season's Eastern Conference Champions
Boston Celtics
finished fourth in the regular season. Celtics have made a smart move in bringing in Jermaine O'Neal to replace Rasheed Wallace, and their best off-season move definitely was re-signing Ray Allen. But as much as I respect KG, Ray, and Paul Pierce brought last post-season, I feel that the Finals Game 7 was the end of the road for these old cats. Rajon Rondo, on the other hand, is going to be a superstar.
And then there's the
Heat
. Winners, definitely. No matter how much someone hates the process of
how
LeBron became a Heater, there is no doubt that now that he's there, he helps elevate them immediately into the NBA elite. Watching LeBron and Wade together in the Dream Team and the All Star Game had everyone's wildest fantasies salivating, but it was hard to imagine them actually playing together, in the same team. Well, here they are, as team-mates, along with all star big man Bosh. Miami will always be Wade's team, and LeBron will benefit from being spectacular while not being entirely responsible, just the way he would like it. The responsibility will fall on
Wade
, who is no doubt the ultimate winner of the free agency - he got to stay loyal to his team and he was able to coax the league's best player and one of the best men to join him to now attempt another shot at the title. This is the best set of team-mates any of them has ever had, and their chemistry together will be crucial when predicting how they will end up.
I do feel this team has titles in them - they will have a backing squad of Mario Chalmers, Mike Miller, Zydrunas Ilgauskas, Udonis Haslem, and I'm hoping a few more, but I don't think that they will see the ring their first season together. It will take some time, but when it happens, it is going to be devastating. Until then, I'm excited just with the possibility of seeing these three go at it together.
And oh, let me not skip
LeBron James
the winner/loser/most wanted/most hated person in the world right now. LeBron's shameless flirting with the Cavs, Heat, Bulls, Knicks, Nets, and Mavericks had team-owners begging around his arrogant self to join them, and in the end, the world realised that the decision was never about what team LeBron wants to play for, it was about what LeBron can get out of this situation. He turned it into a marketing ploy, broke a million hearts, and in the end, chose the one situation in the Eastern Conference that would make life easiest for him by joining Wade and Bosh. Sure, this classifies as 'wanting to win', but more than that, it classifies as 'not wanting to be his own legend'. Starting from the shambolic end to the Celtic playoff series back in May, the last two months have taken LeBron from being one of the most admired to one of the most hated people in sports right now. How's that for successful self-promotion. His only redemption? Stop acting like a 'Chosen One' and a 'King' (he won't) and quietly stack up NBA Championships (quite possible) like Number 24 out west in LA.
And the other Eastern Conference playoff teams?
Bobcats
made a few moves
but aren't getting anywhere. And does anyone even remember that the
Bucks
were a game away from the 2nd round?
Raptors are done, Pacers and Pistons are pretty much the same, and the Sixers and Wizards got a couple of exciting rookies but won't be shaking the world any time soon.
Which leaves the
Knicks
and the
Nets
, two teams hungry for the LeBron sweepstakes. Knicks made the smart early move and didn't wait for His Royal LeSellOut to sign Amar'e from the Suns. Not the biggest of upgrades, but a force on the block nonetheless. I'm saddened by the loss of my Knick favourite David Lee, but the team received three good players in the form of Anthony Randolph, Ronny Turiaf, and Kelenna Azubuike in return from the Warriors. The addition of Raymond Felton at the point helps to complete a starting five of Felton, Wilson Chandler, Danilo Gallinari, Amar'e, and Randolph, with Azubuike, Turiaf, Toney Douglas, Bill Walker, and newly signed Russian big man Timofey Mozgov off the bench. Not the best team, yes, but definitely a playoff team. The Knicks win.
The Nets, for their efforts, got talented big man Derrick Favors from the draft and replaced LeBron dreams with Travis Outlaw and Jordan Farmar. Yes, losers.
On to the west coast then, which was relatively quieter from the drama.
Mavericks
made the right moves by re-signing Dirk Nowitzki and also getting Tyson Chandler from the Bobcats. They will be better, but still no Laker-beaters.
Nuggets
scored with former Knick Al Harrington, but will not be a better team. They should keep their eye out on keeping next year's big free agent Carmelo Anthony happy.
Jazz
lost Boozer and Korver, but have made up for it somewhat by getting Al Jefferson from the Timberwolves for
shits and nickels
.
The
Suns
will have a new-looking roster next season. After losing Amar'e, they signed Hakim Warrick and smartly, signed Hawks/Olympiacos swingman Josh Childress, who could become the underrated signing of the summer. The team is also close to replacing Leonardo Barbosa with Raptor flop Hedo Turkoglo. Steve Nash has given new life to many has-beens before, and I actually believe that Turkoglo, Childress, Jason Richardson, Grant Hill, Frye, Warrick, Robin Lopez, etc will flourish with the star point guard's final season in top-tier relevance.
Blazers
stay pretty much the same (but will improve with the return of Oden, if he returns), Spurs stay the same (except for a
maybe genius signing
), and the
Grizzlies
wasted a bit too much money on keeping Rudy Gay.
Now, how about the
Thunder
? The young, exciting team that toppled the Laker ship in the playoffs will be the squad to watch next season. Kevin Durant is a bonafide superstar, finishing as the league leader in scoring and second in MVP voting last season. He also made the anti-LeBron gentlemanly move of the off-season when
he quitely extended with his team
, giving a clear sign of loyalty to his talented teammates Jeff Green, Russell Westbrook, James Harden, and others. By not changing much, the Thunder have improved.
Houston
will be better if Yao returns, worse if he does not.
Hornets
and Chris Paul are going to spend a season (or two) in a lot of pain before Paul eventually gets frustrated and (probably)
leaves for the Knicks
.
Clippers
will improve with the play of Blake Griffin, but will still be the Clippers.
Warriors
should enjoy the improving Stephen Curry, along with David Lee and Monta Ellis. And the
Kings
will just hope that former ROY Tyreke Evans continues to improve and incorporates talented but troubled rookie DeMarcus Cousins.
Now, where do I start my
Minnesota Timberwolves
rant, a failure in management that is starting to make Isaiah Thomas' reign with the Knicks look flourishing. David Kahn has made some confusing moves over the past two off-seasons, and has now finished with a roster that refuses to improve. Sure, Jonny Flynn, Kevin Love, new signing Michael Beasley, Corey Brewer, Darko (gulp!), talented rookie Wesley Johnson, and soon-to-be-new-point-guard Luke Ridnour are good players, but the team was supposed to be done with young-maybe-potential-talents by now. Instead, they continue to be where they always were, still giving false hope. They still own the draft rights to Spanish phenon Ricky Rubio, but I'm willing to bet Darko's new 20 million dollar contract that Rubio's never putting on a Minnesota jersey.
But in the end, the real Kings remain the Kings. Not the Sacramento Kings, or the Miami Heat Three Kings. I mean back-to-back NBA Champions, the
Lakers
. Phil Jackson is back, Derek Fisher is back, Steve Blake was smartly added to this team, and of course, Kobe, Gasol, Artest, Bynum, Odom, etc are still there, still dangerous.
After a lot of noise and shifting and rumours and flirting and talking and moving and all that, the Lakers are still the team to beat, still looking favourites to make it a three-peat.